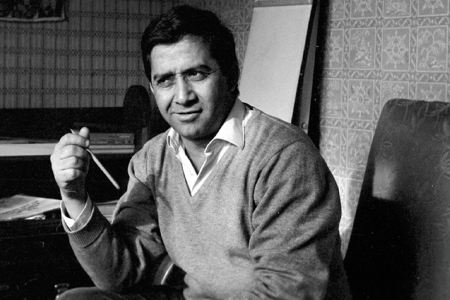 Taking Chances
Issue 77 February 2011
Looking for adventure, Mohammad Amjad Khwaja set off from Pakistan in the summer of 1962. With only £5.00 in his pocket, he arrived in London with no job prospects and no fixed address to build a new life for himself.
I was born in Rawalpindi, Pakistan in 1937. As the fifth in a family of seven children, I wasn't given much attention. My father was a businessman, but he was adamant his five boys pave their own path in life. So, after my studies were complete, I decided to join the army but was rejected! A cousin of mine was enlisted in the army and the majority of his officers were Englishmen. Whenever I'd visit him, I'd use it as an opportunity to perfect my English.
As a young Pakistani boy, I could only dream of the freedom that existed in England and decided that is where I was going to travel to.
At that time, a one way ticket from Islamabad to London cost 1,832 rupees, which is just a little over £13.00 now. But back then, it was considered a lot of money. On top of that, it was almost impossible to acquire a passport. The officials were difficult and most things operated on bribery; the right amount of money could get you just about anything. So I paid an agent 500 rupees (£4.00) and two days later I had a passport and was ready and raring to go.
In the summer of 1962, I set off from Islamabad for the UK. To say I was anxious is an understatement; I was in my early 20s, still very attached to my family and was about to embark on a completely new phase of my life without much support or solid direction. But the idea of being independent and leading a lifestyle of leisure was an appealing one that I was willing to sacrifice the comforts of home for.
As I approached the immigration officer, he stopped me and asked to see my immunisation certificate. I showed him a document given by my doctor, but he didn't accept it. "Let me see your scar," he demanded. So, I rolled up my sleeve and showed him. "That's not deep enough," he retorted. I looked at him and said, "Well, why don't you get a knife out and make it the right size, then?" Surprised, he chuckled, "You're chirpy!" I knew then that I could never be shy or hesitant in this country. I had to be myself: never feel inferior or superior if I was ever going to get comfortable and make England my home.
When I arrived, I had nothing set up; no job prospects, no family and exactly £5.00 in my pocket (65 rupees). I had some friends who were here and I had arranged to stay with them. There were four of us and we all shared a single room; with two, sometimes three to a bed. I can't begin to tell you how many times I fell off that darn mattress!
It was a strange, new world that I had stumbled across. It was everything I had anticipated and more. The air was fragrant with the scent of freedom; England meant liberation for me. I felt like a young man who had escaped the wilderness. Three days later, I found myself a job. My friends were working in a coal mine and they put in a good word for me. It was a dirty, filthy job, very different to the sales management job I had been doing in Pakistan. But I never complained. I was earning about £6.00 a week, which was an impressive pay cheque. Aside from food, I had two vices: cigarettes, which cost a miraculous 20 pence per pack of 10, and the cinema. I'd go to the cinema at every opportunity. A ticket cost one shilling and nine pence, so after basic expenses, I could always save a couple of pounds.
The job was difficult but the independence was well worth it. In the morning, the foreman would arrive and outline our daily duties. I'd have to sit by the switch and make sure the belt kept running to transport the coal out of the pit. Every day, I'd take the Daily Telegraph down into the pit to keep myself informed. All the lads would tease me, "Oh look! Here comes the genius." Back then, there wasn't a huge variety of newspapers and everyone read The Tribune – a tabloid equivalent to The Sun. One day my manager overheard the lads giggling at me reading the Telegraph and pulled me aside. "I didn't realise you were educated," he said. "Are you any good with calculations?" A few days later he moved me to the surveying team. I worked there for almost a year and then moved onto telecommunications. The lads I worked with were a good bunch; they were friendly, talkative people but they maintained somewhat of a superiority complex. The Britons who were the most educated were the least hostile towards migrants.
There weren't many mosques in those days and the ones that did exist were in isolated areas. So, many people would open their houses up for communal prayers. Then Saudi Arabia began to invest money to create mosques, and pretty soon there were many. The same can be said for things like halal meat. In the early 60s, there was only one shop per city that sold halal meat and the entire Muslim community would shop from there.
I had never anticipated I would get married here, especially to someone who wasn't Pakistani. But one day, I was attending a debate held at a London university and I struck up a conversation with the girl sitting beside me. Seema was 17 at the time. From there, our friendship grew and in 1965 we were married. She had bought an English translation of the Qur'an and despite being raised without any particular religion, she decided that Islam made sense to her and so she converted. My family were vehemently against our marriage; as a young English girl she was a foreigner to them. She didn't understand the customs or the language but I didn't care. I had fallen in love with her and I knew I wanted to build a family with her. Finally, my mother's brother convinced the family that I was adamant and that they should give me their blessings.
A week after we got married, I took my wife to Pakistan and she received a tremendous welcome: they were all fascinated by her. My mother couldn't speak a word of English and Seema only knew a few Punjabi words, yet they managed to communicate perfectly fine. Perhaps their mutual love for me was the catalyst - or so I like to think.
When asked, I always say I'm from Pakistan, even though I'm British. I don't like it when I go there and see the state things are in, but that's where I came from. This society gave me a lot more than Pakistan did: a job, money, my wife and children – everything stemmed from here. Ever since I came here, I have been financially sound. I have travelled a lot - I've seen more than half of the world, including the whole of Western Europe. I've been to Jewish homes and stayed with Jewish families in Israel. I enjoy folk singing in Spain and flamenco dancing.
Most British people accepted foreigners - we were here to stay and contribute to the economy. But that attitude is changing again. I'm against bogus asylum seekers and economic scroungers. I've always been blunt about these issues.
I have absolutely no regrets coming to the UK; it's been the best decision of my life. I'm retired now, but I do market research and I keep myself busy, having just returned from an overseas trip.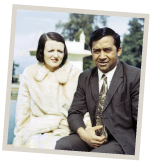 Amjad with his then wife, Seema, in Paris, 1967
Share this


Link to this
Printer Friendly