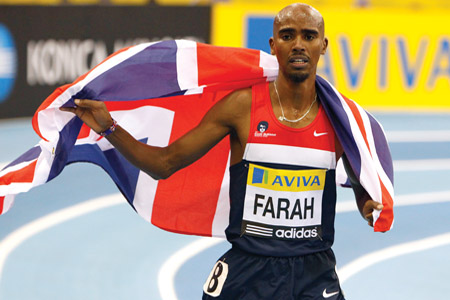 Mo Farah - Going for Double Gold
Issue 94 July 2012
He has overcome US Homeland Security, injury, and doubters, but Mo Farah is on the brink of Olympic glory—just weeks before his wife delivers twins. Ali Khimji talks faith and the fast track with the gold medal hopeful.
Nearly two months ago, Mo Farah appeared on Sky's A League of Their Own sports comedy show, where the host James Corden put it to the other guests on the panel to come up for a celebration for Mo if he is victorious at the 2012 London Olympics. They soon settled on Mo doing a letter M over his head, and Corden dubbed it "the MoBot." When I ask Mo how confident he feels about doing the MoBot as he crosses the finish line in a few weeks, he laughs and tells me it depends on the result. "It's good fun but I don't really think about it too much, it just comes to me when I cross the line," he says.

I speak to Mo whilst he is in Utah for high-altitude training. As the Olympics approach, his training schedule is getting pretty intense. He runs twice a day, everyday, and covers over a hundred miles a week. He sounds self-assured when he says that his training is going to plan. For someone with the determination of an Olympic athlete, Mo comes across as very calm and relaxed; something that he believes Islam has contributed towards.
"Being a Muslim has helped me a lot in my preparation for the Olympics. You've got to believe in God. Everything happens for a reason, so you shouldn't get wound up. I think the way I am, the way I'm chilled out, has a lot to do with being Muslim and having faith. It also says in the Qur'an that you must work hard in whatever you do, so I work hard in training and that's got a lot to do with being successful. It doesn't just come overnight, you've got to train for it and believe in yourself; that's the most important thing."

Having been born in Somalia and growing up in Djibouti, Mo arrived in Britain at the age of eight unable to speak a word of English. His P.E. teacher noticed his natural ability for athletics, so encouraged him to train at a running club after school. Having impressed in school competitions, he went pro and after winning a series of races in the lead-up to the 2008 Olympics, many had high hopes for him in Beijing, but unfortunately he was knocked out before the final. Not letting that knock his confidence, Mo bounced back to win the 5,000m and 10,000m events at the 2010 European Athletics Championships. Last year proved even more fruitful for him, as he made a name for himself on the global stage at the 2011 World Championships in Athletics, by winning the gold medal in the 5,000m event. He was expected to take gold in the 10,000m as well, but was narrowly beaten on the last lap and went home with silver. Nevertheless, Mo became the first British man to win a global title in either distance.
Last year, Mo moved from London to Portland, Oregon with his wife Tania and daughter Rihanna to train with Alberto Salazar, the world-renowned running coach who rose to prominence in the early 1980s. The family was held in Canada waiting for their American visas to come through, as Homeland Security did not like Mo's place of birth, Mogadishu. They almost abandoned the American plan, but Salazar managed to contact some running fans in the FBI and got things sorted. On the track, having someone like Salazar, who has been on the running circuit for some time, has really helped Mo reach his peak as he approaches the Olympics, and he has also benefitted from having a group of runners to train with around the area.

Mo competes in both the 5,000m and 10,000m events on a regular basis, but says that in the London Olympics, he will definitely be participating in the 10,000m event but will see how that goes before entering the 5,000m race. When it comes down to the actual race day, I ask Mo what will be going through his head. "There are a lot of things. I normally pray before a race, I read dua, think about how hard I've worked, and just go for it." As he is a long-distance runner, Mo's mind can tend to wander during a race, but he says it's a case of just keeping focused on the task at hand.

Every athlete dreams of taking part in the Olympics, but for Mo to have the Games in the city that he grew up in is something even more special. Ever the humble man, he's most looking forward to seeing family and friends who he has not seen in a while, having been training and competing all over the world. There will be an added advantage to competing on home soil once Mo is in the stadium: "If it comes down to the last ten or fifteen metres, and it's really tight in the race and guys are coming through at the end, and everyone's shouting your name, it gives you that bit more of a boost, so hopefully it will help."

Back in March, there were doubts surrounding Mo's performances, even though he had enjoyed such tremendous victory last year. He was beaten four races in a row, and many felt it was down to the constant travelling between the UK, USA and Kenya for races and training. I ask Mo if he stepped up his training following those defeats, but it appeared as if it had not fazed him as much as the media had portrayed. "I have always worked hard in training, but sometimes things do not go to plan. I was disappointed, but you've got to move on, and just train and focus."

At the start of June, Mo's doubters were put in their place when he faced up against Kenenisa Bekele, the world record holder in the 5,000m and 10,000m events. In the 5,000m event at the Diamond League meeting in Eugene, Oregon, Mo won the race comfortably, setting a new track record and the second fastest 5,000m time of his career in the process.

Mo credits his wife Tania for offering unwavering support, through the good times and the bad. She's expecting twins just after the Olympics, offering him the chance of two doubles within four weeks.
With his strong faith, confident approach, and sheer commitment to training, Mo has everything in his arsenal to take the gold at the upcoming Olympics. To date, no British man has won an Olympic gold medal in either the 5,000m or 10,000m, so those who choose to tune in to see Mo compete in the 10,000m event on Saturday 4th August, may very well be witnessing history in the making.
Share this


Link to this
Printer Friendly