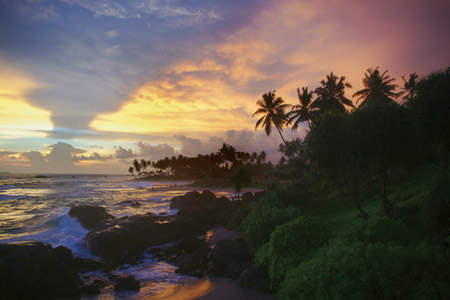 From Rotis to Ramparts
Issue 94 July 2012
The little island of Sri Lanka has suffered many fates over the past thirty years, but is now emerging into a blossoming period of prosperity as a travellers' paradise. Nabeel Shariff takes you on a gastronomic journey of this unique and amazing country.
The first time I met Walter he was standing with an intense look on his face in the arrivals hall at Colombo airport. He's around 5'2, greying and in his early 60s with a belly to boot. From the moment he greeted me, he had this gentle yet mischievous aura about him, and I knew we would become pretty good friends by the end of the trip. We headed to our vehicle and in the still-humid air we began to get acquainted. He asked me if I was hungry, and I said I had slept most of the journey so a definite yes, and with that we headed into Colombo as the afternoon rush hour peaked.

Walter said to me that for this evening, the best way to get over a long trip is to relax with the ocean breeze, and a short walk from the hotel a vibrant open space appeared. The Galle Face Green is where locals meet in the evening to have a natter, bring the kids to run around, and get some yummy street food. The food vendors line up along the sea facing the promenade, with a collection of what Sri Lankans call 'short eats' or snacking foods. Rustic cabanas are set up each day with a selection of unique and unusual delights, and as you peer through the perspex, you realise a need to satisfy your curiosity with a bit of everything. The halal vendors are easily recognisable, either by the appearance of the vendor, or the halal sign stuck on the cart. No trip to Galle Face Green is complete without tasting the rarely found Isso Wade, a deep fried lentil patty with three shrimps wedged into the top. The real pleasure of eating Isso Wade or anything else here is to down it right there and then, getting a little bit messy in the process.
Share this


Link to this
Printer Friendly