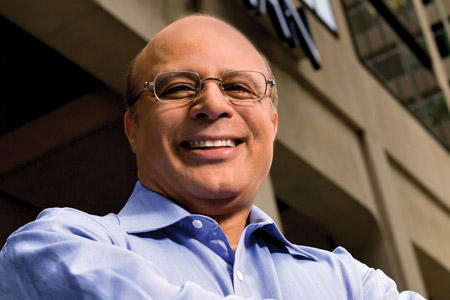 10 Questions with S.A. Ibrahim
Issue 94 July 2012
S.A. Ibrahim spent the early years of his career with large corporations, such as American Express and General Electric. When an opportunity to join a smaller company came up, S.A. initially thought it was a step down in his career, but he was soon proved wrong.

S.A. Ibrahim is CEO of Radian Group Inc., one of the largest private mortgage insurers in the U.S.  He also serves on the Board of Trustees of the Institute of International Education in New York, the Eastern PA Anti-Defamation League, the Wharton Executive Board, and the Academy of the University of Pennsylvania.  S.A. and his family support education and promote international and interfaith understanding through the Ibrahim Family Foundation, which sponsors the Ibrahim Leadership and Dialogue Project in the Middle East.

1. How did your education and upbringing have an influence on you?
It had an important influence on me in a few different ways. Firstly, I come from the Kutchi Memon community, which focuses on business and for generations, the community has established itself as merchants around the world. The other dimension in my upbringing that had an impact on me was that my family and wider community tended to be very tolerant, and we did business with people from different religious and ethnic groups, in the extremely heterogeneous environment of India.

From high school, I went on to study engineering, which very indirectly plays a role in what I do today. A lot of my business career has been on the risk management side, and when you're designing new products and programmes, it's very much like engineering, when you're trying to design an element that can withstand external stresses and have specific performance requirements.

2. Which people do you admire the most and why?
There are some political leaders who I have great admiration for, such as Gandhi. He grew up in a business community, but moved beyond pure monetary issues and I think he personified an element of courage and dedication to principles, while ensuring fairness to all.

I also admire people who use the power of words to defeat tyranny, or to bring about a change for the better, and one person who did this was Winston Churchill. When nothing but the Channel stood between Britain and the Nazi forces, his power of words made the impossible possible in terms of snatching victory of what everybody would have thought of as defeat.

3. What was your biggest break and was there an element of luck involved?
My biggest break was something that I am thankful to my wife for. I had worked all my life for very large corporations, such as General Electric, Bank of America, JP Morgan and American Express. I learnt a lot from these companies, but when I was with American Express, I was working abroad a lot and I hardly saw my son, who was nine years old at the time. It was then that my wife influenced me to leave and go to a smaller company called GreenPoint. My former boss had gone to run that, and I thought, with the mind-set of someone who had only worked in large companies, that I was basically giving up on my career and going to work where there wouldn't be much challenge or opportunity.
Share this


Link to this
Printer Friendly