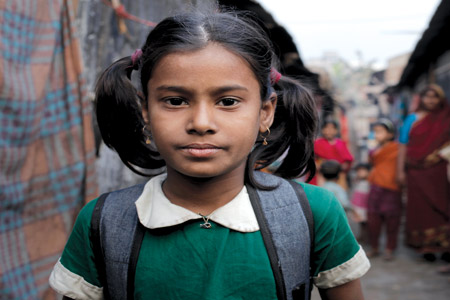 A Fresh Start in Ramadan
Issue 94 July 2012
Islamic Relief is best known for providing aid in major emergencies. But this Ramadan the charity is highlighting longer-term projects that are helping poor families turn their lives around, as Martin Cottingham explains.

If you saw Lucky on the streets of Rangpur in Bangladesh, you might not think that her parents gave her the most appropriate of names. Now 47, she has spent her entire life in the slums, struggling to make ends meet. She lives with her daughter in a tiny room in her father's house, where she took refuge after her husband died seven years ago following a long illness.

But things are really looking up for Lucky, thanks to the HELP-UP project run by Islamic Relief. She's been trained in how to raise livestock and has saved enough money to buy eight sheep. She's built herself a simple latrine and a tube well to provide safe drinking water. She hopes to buy a cow and a piece of land to build her own house.

The way she has turned her life around would not look out of place in one of those feel-good reality TV programmes. Except that in shows like Extreme Makeover and What Not to Wear the transformation is skin deep, while in the Rangpur slums it is much more profound.

HELP-UP stands for Health, Education and Livelihood Programme for the Ultra Poor. The world's poorest people are often portrayed as helpless victims—a stereotype that ignores the resilience, resourcefulness and community spirit that poor communities often have in abundance. The name of this project reflects that what people need is a helping hand, not endless handouts.
Share this


Link to this
Printer Friendly