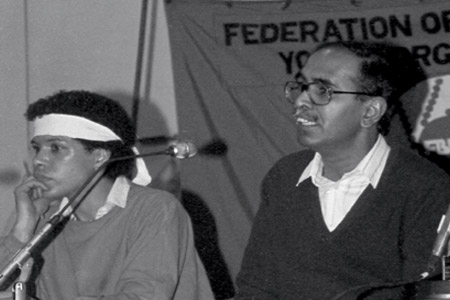 From Academia to Activism
Issue 94 July 2012
Abdul Momen started out as a lecturer in English Literature, but his revolutionary tendencies led to an active role in the Bangladesh freedom movement and a position in community work at Camden Council.
I was born in a town near Calcutta in West Bengal in 1937. After high school, I went on to study at a college, which is now a university, the University of Khulna. I became interested in English Literature and went on to study for a Masters. In 1964, an opportunity arose to apply for a scholarship through the British Council, so I went to the University of Leeds for a postgraduate diploma in English Literature.

Whilst living in Leeds, I signed up to work as a research team that was looking into council housing around the outskirts of the city. I was part of the survey team, so was sent to areas that were populated mostly by white, working-class families. I had all kinds of receptions in this role. Some people invited me in and answered my questions, but others shut the door in my face. I met some Gujurati families, who refused to answer my questions until I had joined them for a meal. There was one elderly English woman who I remember quite well. She invited me in, and we had a long conversation where she was almost in tears as she told me about the struggles that she was going through. Her children hardly visited her, she had no money to treat herself at Christmas, and she said she couldn't even afford to give me a biscuit with the tea she had made for us. I had been living quite comfortably in good accommodation through the scholarship, so it was quite shocking to see the presence of poverty in the UK.

When my scholarship came to an end in Leeds, the head of department offered me another scholarship to continue my study, but I told him that I had to return to Bangladesh because my parents wanted me to get married. I went back to the college in Khulna and I was given a high position because I had a qualification from England, which was very well respected. Within a year, I received a telegram from the head of department at the University of Chittagong. He was offering me a job as a senior lecturer, which I accepted, and I moved there with my wife and parents. In my short time in Chittagong, my work came to be highly regarded and I was appointed proctor of the university. However, it was the time when many students were protesting against the military government, and a proctor at another university was killed, so my mother pleaded that I leave the job and find something else.
Share this


Link to this
Printer Friendly