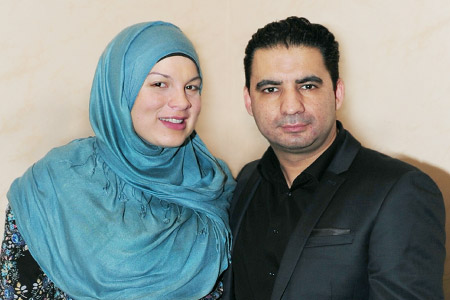 A Foundation of Faith
Issue 94 July 2012
Naushad introduced Denise to Islam, and after embarking on her own spiritual journey, became a Muslim soon after.
Denise
I first met Naushad before I became a Muslim. His dawah was the starting point for my journey of self-discovery and exploration of the faith. At first, I found Naushad to be extremely charming and knowledgeable, with a warm sense of humour. He passionately spoke about Islam, which intrigued my interest, and I eventually embraced the faith in 2009. Once I had accepted Islam, I wanted to get married to complete half my deen, and in my heart, I knew that I wanted to complete it with the man who had triggered my exploration of Islam. But I was scared that he wouldn't want to marry me, because our backgrounds were so different! Around the same time, Naushad actually got in contact with me about the same matter, and invited me to meet with him and his mother. After discussing our feelings and how we wanted to take things forward, we set a date for the wedding!
When it came to the wedding day, I had butterflies in my stomach from the minute I woke up until the nikah. I was extremely happy, yet very nervous, as my whole life was about to change. I've always been quite independent and the prospect of sharing my life with someone else was a journey into the unknown. Like any couple, we do clash at times, but also because we are both strong-minded individuals. Fortunately, love and compromise gets us through any sticky situations.

Naushad
When I first started speaking to Denise, I found myself talking about Islam often. She had grown up a Catholic, so I began by highlighting the many similarities between Islam and Christianity. I then went on to describe the importance and high position that Jesus and Mary held in Islam. I wanted Denise to see beyond the stereotypes, and to understand the pure beauty of Islam, by explaining the fundamental principles and clearly setting out what the doctrine entailed. She had no idea how similar the belief systems were between Islam and Christianity, and even now, she remarks on how 'Muslim' she already was when we first met.

What I admire most about Denise is the way that she thoroughly studied and researched Islam, before reverting to the faith. It wasn't as if she just took what I said and accepted the faith, but instead she embarked on her own personal spiritual journey, and I am glad that it ended up at Islam. Soon after she reverted, I realised that I wanted to marry her. I found her to be attractive, intelligent, and I knew she would make a fantastic mother. When it came down to approaching her about marriage, I just went straight-out and asked her directly! She agreed, and after meeting my family, who fully supported my choice, we started planning for the wedding. Initially, Denise's family thought that she had converted for me, but I was thankful that she soon helped them understand that it was the result of her own spiritual quest, and that we both wanted to marry one another, so that we could strengthen our Islamic faith.
Share this


Link to this
Printer Friendly