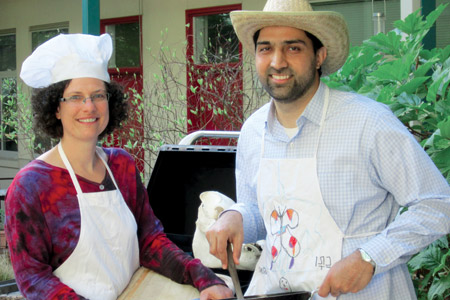 An Organic Partnership
Issue 94 July 2012
After realising they had a shared passion to provide ethical and sustainable meat for their religious communities, Devora and Yasir were able to share secrets of the trade.
Devora
I first met Yasir in the spring of 2008. He had just launched Green Zabiha, a halal meat company, and some friends had told him that I had just launched a similar venture in the Jewish community, so he emailed me to ask if we could meet up and see how we could collaborate. We met for lunch at a local vegetarian restaurant. I was immediately blown away at how we were nearly identical twins! We were both working to provide our respective communities with sustainable, ethical and healthy meat, which no one else seemed to be doing anywhere in the country. We both lived in the suburbs of Washington DC, had full-time jobs in technology, were around the same age, and grew up in the Midwest. We even had three kids when we first met, and now have four!

The great thing about our relationship was that our businesses were so similar, yet they were different enough so that we were not direct competitors and did not have to worry about sharing trade secrets. For the first few months, we swapped information on freezer warehouses, farmers, slaughterhouses, and which methods were working for either of us. We were really at the forefront of a movement that is only now beginning to catch up.
Yasir
When my friends first told me about Devora, I was amazed that in this expansive country of the United States, there were two individuals who happened to share a passion about conscious eating who only lived a few miles apart! When we first met, we were startled by the sheer number of similarities between us, but I was equally inspired by her commitment and devotion to her cause, and still continue to be to this day.

We both consider eating a spiritual act, and we take our commitment to provide customers with meat that will truly nourish them very seriously. This wholesome nourishment comes in a physical form, in that the meat must have no hormones or antibiotics, and in a spiritual sense, where the animal must be raised with dignity. Because of this commitment, it can be quite challenging to find quality farmers that are close to certified abattoirs.
Share this


Link to this
Printer Friendly