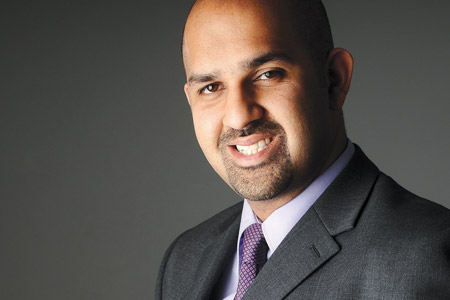 A week in the life of Asif Iqbal
Issue 94 July 2012
Asif Iqbal MBE initially wanted to become the first deaf MP, but then realised he could effect change through other means.
While most people would wake to the tones of an alarm clock, mine has a vibrating mode on it to raise me from my slumber. Gadgets like this make it very easy for deaf or hard of hearing people to get up on time without assistance, and they even work for those who are just heavy sleepers! I have quite a few different roles, so the time that my day starts depends on that. Three days a week I work with a local authority, so I get up at 5:30, leave home at 6:00 for an 8:00 start. The other two days I work as a specialist advisor for deaf and hard of hearing people, so I drop my kids at the local nursery before making my way to work in London. In between these two positions of responsibility, I advocate for disabled people, am a public appointment ambassador with the government, and also act as the President of my local Harrow Asian Deaf Club.

I started out wanting to become the first deaf MP, but the process was so complex that I felt advocacy and public appointment was another route into government that would allow me to represent the voices of the communities that I represent. Being a deaf person, I have faced a lot of challenges throughout my career including a lack of deaf awareness and attitude problems of those who don't know how to communicate with deaf people. However, I have managed to face up to those challenges and turn them into positive outcomes. One example of this that comes to mind is when I was at a government meeting with civil servants and ministers. I had two interpreters with me, but because it was such a fast-paced meeting with many people speaking at the time, a lot of it was lost in translation. It wasn't just me that was missing out; many colleagues who could hear couldn't understand proceedings either. I therefore put my hand up and requested the chair of the meeting to ask people to speak one at a time. The chair agreed and implemented it immediately, and everyone found it of immense benefit. It is very important to have clear communication with each other, and there is no point in nodding away when you don't have a clue what's going on!
Share this


Link to this
Printer Friendly