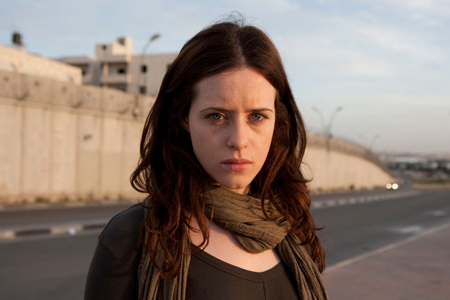 Film Review - 'The Promise'
Review by Nadiya Takolia
It is difficult to think of a conflict which rocks and divides people as much as the Israel-Palestine conflict. Comprehending it is one thing. Tackling it artistically, as Peter Kominsky does in 'The Promise', is quite another.
The Promise follows Erin, a British girl, who upon discovering that her grandfather served as a soldier in British-mandate Palestine, accompanies her friend to Israel. During her stay, Erin explores her grandfather's story through his diary and in doing so, embarks on a journey in the Holy Land, getting more than she bargained for.
What follows is powerful. The drama skilfully moves between time and perspective. Modern-day Erin is juxtaposed against 1940's Len (the grandfather), a contrast which allows the viewer to explore the ironies and parallels that taint history; for example, how the oppressed became the oppressor, "The Jews more than anyone know that killing civilians because of who they are is wrong". Also, the viewpoint of a British soldier is rare and has been lost in the history of the conflict, and as such is valuable.
Moreover, the past and the present constantly echo each other. For example, the violence of the Irgun militias rhymes with the violence of Palestinian militants, "People blowing up buildings because they can't make their point any other way"; Kominsky acutely portrays the historical continuity of human suffering and desperation in different contexts.
The drama has been criticised as being anti-Semitic. Kominsky however, claims that the production simply reflects the extensive research that was done beforehand. But then must everything related to the conflict be pro-Palestinian/ pro-Jewish/ anti-Semitic/ racist? Can art not be produced for the sake of reflection? As Robert Fisk puts it, trying to tell an unbiased history of the Arab-Israel conflict, "is like trying to ride two bicycles at the same time". I would add to that blindfolded and with your hands tied behind your back. Nevertheless, Kominsky—job well done.
Share this


Link to this
Printer Friendly