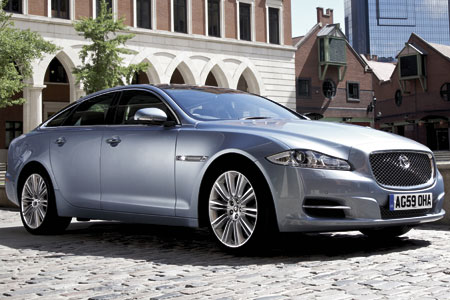 Reinvention - 2011 Jaguar XJ Motoring Review
Issue 79 April 2011
A classy stylish Jaguar is reborn under new Indian ownership. Fazeel Ashraf experiences power and sumptiousness on four wheels.
This month I have been lucky enough to scuttle around in the Prime Minister's car. Well, kind of. OK, it might not have had the inches of bulletproof glass, or the reinforced Kevlar doors, or even the ability to withstand a serious bomb, but it did have four wheels. It was a veritable PR coup when Jaguar managed to get the PM to whizz around in the new XJ on his first day in office.
The styling is a formidable piece of work. A sleek slim pair of headlight clusters flanks its imposing grille. The styling is much softer from a side view with its raked roofline and rounded rear—a vast departure from the old XJ, which was synonymous with Jaguars of yester-year. However, I am not completely convinced the design can last the test of time.
As for the interior, it is not often that manufacturers come along and totally redefine the inside of their cars. However, the new XJ is undoubtedly inspirational. Up front, the dashboard has a nice sweeping design that flows into door panels and features some lovely little touches. There is definitely a strong Trekkie inspiration behind the XJ. For example, when you start the car a circular alloy gear selector rises out of the centre of the console. This may sound a little gimmicky, but it works wonders as it de-clutters the whole dash. The instrument cluster is all virtual; essentially, it is a high definition screen, so it allows you to decide what information you want displayed. In addition, the central control display features split pixel technology, showing two different images simultaneously. Therefore, from the driver's seat you would be able to see the sat-nav information while the passenger will be able to watch a DVD all on the same screen without interfering with each other. Once nestled into the back seat you find a supremely comfortable living space. Whilst not cramped, it does feel slightly on the smaller side compared to some of its competitors, largely due to the raked roofline which drops as you move towards the rear of the car. This is thankfully somewhat offset by the car's glass 'moon roof' which makes the inside feel a lot more airy.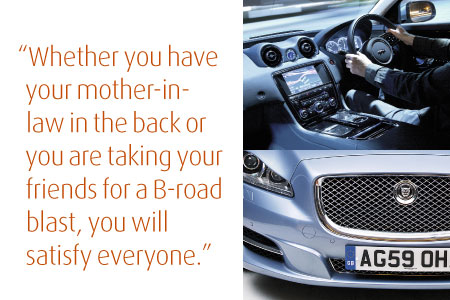 With prices starting at £52,000, it needs to be more than just a gadget convention on wheels. Captains of industry, chauffeurs, and Uncle Tariq all have to be persuaded that the XJ is befitting and as capable as a Mercedes or Lexus.
In the past, I would say sport handling in a luxury liner was exclusive for the likes of BMW and Audi, but with this new XJ they are going to have to start looking over their shoulders; Jaguar seemed to have nailed it with this car. Despite its size, the XJ takes corners flat, handles without lurching and swallows up road imperfections perfectly. The console is stunningly designed, with impressive graphics and a sleek finish. It also houses the buttons, which allow you to switch driving modes. For example, 'Dynamic' mode will drop a gear or two and stiffen everything up. So, whether you have your mother-in-law in the back or you are taking your friends for a B-road blast, you will be sure to satisfy all. For a car of its heft, its composure borders on amazing. While the rear air suspension keeps everything soft and velvety, the front suspension lets you spar and wrangle with the road.
Gear shifts are virtually imperceptible, and the unit always keeps the engine right where it needs regardless of how heavy or light the load is. The throttle response is instantaneous and despite being a diesel, the sound is so restrained it is easy to go beyond legal speed limits. This 3-litre diesel will average a healthy 40mpg which considering it can take you from rest to sixty in six seconds flat is mightily impressive.
Maybe selling a quintessentially British car company to the Indian owners Tata was the right thing to do. Gone is the old 'fuddy-duddy' image of Jaguars to be replaced with a sense of style you hope Jaguar can maintain in the future. If the new XJ was an extension to your personality, you would have flair and style, be an international powerhouse, and of course have the mandatory large bank balance.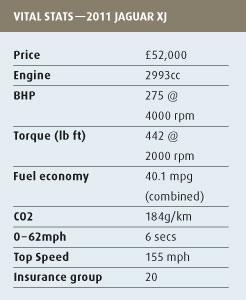 Share this


Link to this
Printer Friendly