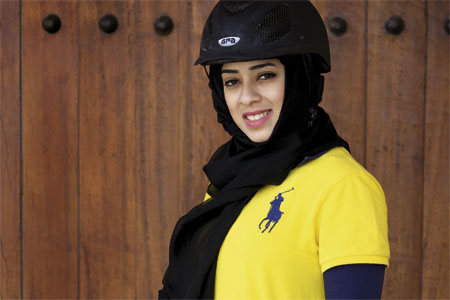 Watch This Face - Hanan al Muhairi
Issue 79 April 2011
At 26, Hanan al Muhairi has become a galloping success; she has combined a lifelong passion for riding and film production to challenge established societal norms in the United Arab Emirates.
After graduating with flying colours from Applied Science at Dubai Women's College in 2008, Hanan hurdled ahead by producing a highly successful documentary entitled Arabyana, "Our right to ride". As the first documentary of its kind, it fearlessly addresses the controversial religious, social and medical issues surrounding the newly founded UAE women's riding team, of which Hanan is president. Despite openly contesting the roles and activities deemed acceptable for Arab women, the documentary received acclaim from a number of prominent personalities, including the wife of the Prime Minister and the Goodwill Ambassador to the UN.
Persistently looking to expand her potential, Hanan has recently completed a Masters in Strategic Human Resources Management and holds a Hollywood Institute Director and Producer diploma. Impressed by her achievements so far, she was offered a job at the Dubai Police General Headquarters where she currently heads the Division for Knowledge Management Administration.
When asked to what she accredits her success, she modestly replies, "I'm constantly striving to achieve more, and all I know is that I still have dreams which need to be realised".

Words - Khadija Gulamhusein
Portrait- Mohamed Somji
Share this


Link to this
Printer Friendly