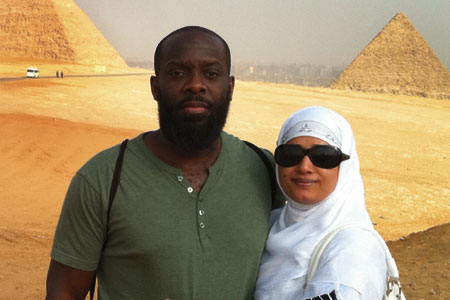 Second Chances
Issue 80 May 2011
After going through difficult divorces with their former partners, Sulaimaan and Hasna were unsure if they'd find their perfect match, until they met each other online.
Sulaimaan
After being married for seven years, my wife and I recognised that our marriage wasn't going to work. Our differences were too great and so we mutually decided to part ways. Three and a half years after that, I joined an online marriage service. After several days of searching and reading dozens of profiles, I discovered Hasna's profile and instinctively knew that I'd found someone very unique. I immediately sent her a message saying, "I'd be honoured if she replied back" and she did!
We exchanged emails for three days and then finally agreed to meet at an open-air town centre restaurant, so we could talk further. During our meeting, we were just completely honest with each other. We discussed what was important to us as individuals; how we wanted to be treated in a relationship; how we'd deal with difficult situations, and how each of us imagined their ideal future would look.
At the end of our meeting, we said we'd talk to our families first and then let each other know if we wanted things to progress further. The next day, Hasna called me and said she'd organised for me to meet her family and closest friends so they could interrogate me—oh, I mean 'get to know me better'! I kindly accepted her invitation.
I must have made an impression on them because when I arrived back home, Hasna called me and said I'd immediately got her sister's approval, so now it was up to us what happened next.
We started talking about wedding plans, and it took us less than an hour to agree that the most important thing to us was being married to each other and not so much the way it happened. Hasna started organising the restaurant, menu and guests, and I was sorting out the nikah, the Imam, the walima and a secret, post-marriage get away. And as unbelievable as it might sound, it was just twelve days after we sent our first messages to each other that we were married. We've been married for three years and are very happy together, alhamdulilah.
Our faith plays an important role in how we conduct ourselves and we've both recognised that if you're not using Islam to resolve your problems, you'll end up using your emotions instead, so success isn't always guaranteed. The Prophet has said: "God loves the person who chooses to abandon an argument and make peace, even though they know they are correct." This philosophy provides an initial method for managing everyday disagreements, and avoids exacerbating and escalating minor disagreements to preserve and protect everyone's dignity.
My previous marriage failed because my wife and I could not agree on how to resolve our differences, and these differences then became impervious problems that couldn't be undone. Divorce can then feel like bereavement, and people cope with it differently. Many can get stuck in denial, anger or depression, unable to see a way out before finally moving on to acceptance.
Based on our own experiences, we felt compelled to launch a new support service that will provide information, advice, a helpline, and a matrimonial service for Muslims facing divorce and those who are already divorced, single-parents or widowed.
Hasna
Two years after being divorced, I decided to register with several matrimonial websites in hopes of remarrying. I had also attended various marriage events. I'd been married from the age of seventeen for fourteen years, so being by myself felt strange.
On December 12th 2007, I received a very flattering message from Sulaimaan; he asked me to look at his profile and said he'd be honoured if I contacted him. Truth be told, his profile looked too good to be true, so I emailed him and we exchanged messages over the next few days.
I had three main criteria when looking for a spouse. Firstly, he had to be balanced in his practice of Islam; secondly, he had to be very intelligent and finally, physically active. Sulaimaan ticked all three of these boxes and many others too, so I couldn't quite believe my luck.
We decided to meet up, as I wanted to have a complete picture of who Sulaimaan really was. Our meeting went far better than I'd imagined. We talked about so many things and both felt instinctively comfortable with each other. Eventually we said our farewells and parted company.
Two days later, I invited Sulaimaan to my house to meet my family and friends, and they all got on very well with him too. So, later that night we both made the decision to get married.
The next day, we talked about the plans for our nikah. I wanted a massive gathering and fancy clothes but knew that would mean having to wait several months longer. So, I boldly suggested we have the nikah at my home in the coming few days and Sulaimaan agreed.
I excitedly completed all the wedding preparations in one day. I bought a new white sari with matching accessories, and booked the restaurant for the whole evening while Sulaimaan organised the more official things like the Imam, hotels and transport. The wedding day was beautiful and within a matter of days from our initial meeting, we were husband and wife.
We both had children from our previous marriages, so we knew we had to be particularly sensitive to their individual needs. Thankfully, they all get on so well, but that doesn't mean we haven't encountered problems. We just try to make sure no one is left feeling upset or left out. Thankfully, my children love Sulaimaan, and he's wonderful with them.
What I love the most about Sulaimaan is his emotional depth, his generosity, his great sense of humour and his ability and willingness to understand me. I truly believe my marriage to him was a gift sent from God.
Unfortunately, people who are divorced experience many roadblocks when looking for a spouse, and I know this from my own experience. It was this that prompted us to launch our service, supporting those looking to remarry. l
www.muslimremarry.com
Share this


Link to this
Printer Friendly