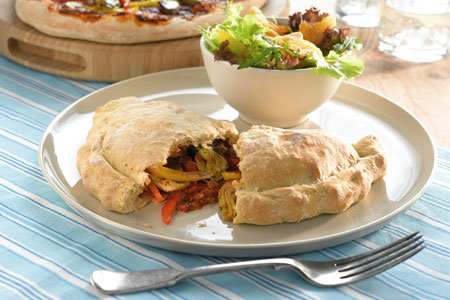 Veggie Delights
Issue 80 May 2011
The month of May plays host to National Vegetarian Week. Join Fatema Zehra as she presents a selection of tasty and wholesome dishes, set to ignite your taste buds.
Tofu Kebabs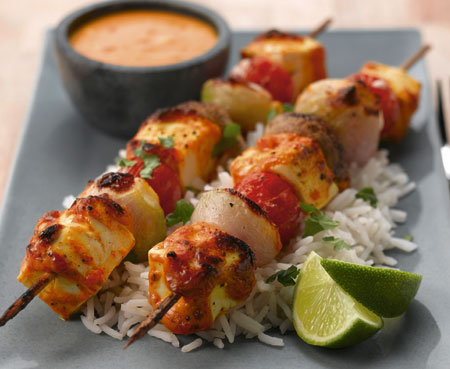 Ingredients
250g regular tofu, drained and pressed
150ml organic mayonnaise
1tbsp Dijon mustard
1tbsp medium curry paste
1 clove garlic, crushed
2.5cm piece fresh root ginger, peeled and grated
Salt and freshly ground black pepper
16 cherry tomatoes
8 shallots, halved
16 button mushrooms
Vegetable oil to brush
8 bamboo skewers
1tbsp smooth mango chutney
To serve
225g basmati rice, cooked

Method
Cut the tofu into bite sized cubes and place in a shallow dish.
Mix the mayonnaise with the mustard, curry paste, garlic and ginger and season well. Pour over the tofu and stir gently to coat. Cover and leave to marinate for 30 minutes.
Thread the tofu onto the bamboo skewers, alternating with vegetables. Leave aside a little marinade. Then, preheat the grill.
Brush the kebabs with a little vegetable oil and grill until cooked and the marinade starts to bubble and turn golden brown.
Place the reserved marinade in a small sauce pan with one tablespoon smooth mango chutney and heat through gently.
Serve the kebabs on a bed of rice with the warm marinade drizzled over.
Leek and Chestnut Purses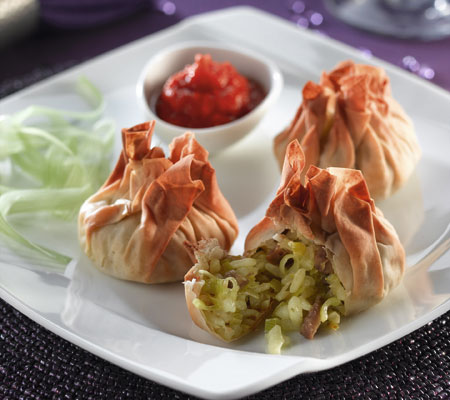 Ingredients
For the purses
2-2 ½ tbsp olive oil
100g leeks, trimmed and finely chopped
50g Arborio risotto rice
375-400ml light vegetable stock
60g chestnuts, roughly chopped
2 tbsp cream or soya cream
300g filo pastry, cut into 24 x 12cm squares
For the relish
1 large roasted red pepper (deseeded & skinned), chopped
2 tsp fresh ginger, finely grated
Pinch of caster sugar (to your taste)

Method
Preheat the oven to 200°C. Heat one tablespoon of oil in a pan, lightly fry leeks until soft and golden. Stir in the rice and coat well. Add 30ml of the stock and bring to boil. Add 175ml stock, enough to cover the rice. Cover the pan and let simmer until the liquid is absorbed.
Add 175ml stock and chestnuts, bring to the boil, cover and simmer for 10-12 minutes until the rice is cooked. Stir in the cream, season well and set aside.
Lightly brush one filo square with oil, place another on top to form an eight pointed star and brush the tips.
Place two tablespoons of mixture in the centre, pull up the edges of the star to form a purse. Repeat until 12 purses are made, then bake on a tray for 15 minutes until golden.
For the relish, mix the pepper, ginger and sugar and blend well. For a finer sauce, add water and sieve. Serve relish with each portion of purses.
Aubergine, Potato and Chick Pea Balti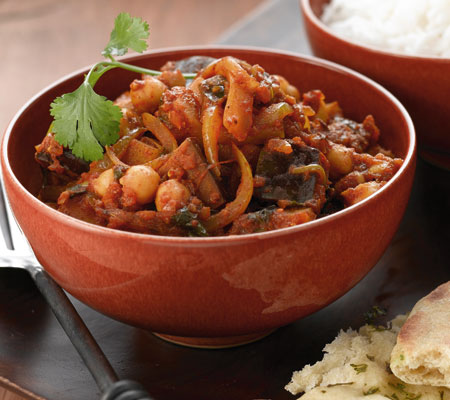 Ingredients
For the vegetables
2 tbsp vegetable oil
1 onion, peeled and finely sliced
½ tsp cumin seeds
1 aubergine, cut into 1cm cubes
1 potato, peeled and cut into 1cm cubes
1x 410g tin chickpeas, rinsed & drained
1 tsp ground coriander
½ tsp ground cumin
¼ tsp ground turmeric

For the sauce
2 tbsp vegetable oil
1 onion, peeled and finely sliced
2 cloves garlic, crushed
2 tsp root ginger, peeled and grated
4 cm cassia bark (optional)
6 whole cloves
450g tin chopped plum tomatoes
¼ tsp ground turmeric
½ tsp ground coriander
½ tsp ground cumin
1 tsp sugar
1 ½ tsp salt
1 tsp red chilli powder to taste
To finish
4 tbsp fresh coriander, finely chopped
200ml water
½ tsp garam masala

Method
For the vegetables, heat the oil in a large saucepan and add the sliced onions and cumin seeds. Cook for three minutes. Add the chopped potato, aubergine, ground coriander, cumin and turmeric.
Stir to coat the vegetables evenly and then cook over a high heat for three minutes stirring occasionally. Remove from pan and set aside.
For the sauce, heat the oil in a pan. Add the onion, crushed garlic, grated ginger, cassia bark and whole cloves and cook for one minute.
Add the chopped plum tomatoes, turmeric, coriander, cumin, salt, sugar and chilli to taste. Cook on a high heat for two minutes, then lower to a medium heat and cook for a further three minutes stirring occasionally.
Remove the cassia bark and blend the sauce roughly with a hand blender, then add the vegetables and chickpeas to the sauce with three tablespoons of chopped coriander, the water and the garam masala.
Cook over a low heat for 20 minutes, stirring occasionally. Garnish with remaining chopped coriander and serve with Basmati rice and/or naan bread.
Slow Roasted Vegetable Calzone, with Orange and Almond Salad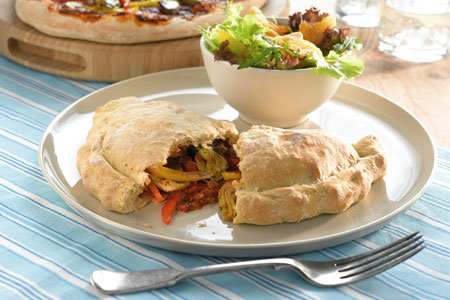 Ingredients
For the dough
360g plain white flour
½ tsp salt
1tsp sugar
2tsp fast active yeast
2tbsp olive oil
240ml lukewarm water
For the tomato sauce
1tbsp olive oil
1 red onion finely chopped
1 clove of garlic, crushed
400g tinned tomatoes
1tsp oregano
500ml vegetable stock
1 tbsp tomato purée

For the topping
2tbsp olive oil
1 red onion, finely sliced
1 red pepper, finely sliced
1 yellow pepper, finely sliced
1 standard can of artichokes, drained and sliced
300g chestnut mushrooms, sliced
75g pine nuts
1tsp dried oregano

Method
To make the dough, sift the flour into a large bowl, add the salt, sugar and yeast, and then stir.
Make a well in the flour, add the oil and then gradually add the water, stirring continuously to form dough.
Dust your work top with a little flour then knead the dough for eight minutes. Divide the dough into two halves and place into a clean bowl, cover with a clean cloth and put in a warm place.
Leave the dough to rise for 40 minutes while you prepare the sauce and topping.
To make the sauce, heat the oil in a frying pan and gently fry the onions for five minutes, then add all of the other ingredients.
Turn down the heat and allow to simmer for 30 minutes until ready to use, stirring occasionally until the consistency is rich and sticky.
To make the topping, preheat the oven to 200°C. Place the onions and peppers onto one tray and the artichokes and mushrooms on to another.
Sprinkle oregano on top, drizzle with the olive oil and season with black pepper. Place in the oven for 20 minutes.
After 40 minutes, the two pieces of dough should have risen to twice their original size. Turn the dough out onto a floured surface and gently roll each out to the size of a large dinner plate.
Place half the sauce on one half of the rolled out dough and add half the filling and pine nuts.
Using a pastry brush, wet the edge of the dough. Fold over the dough pulling and pinching it together to seal the join. It will look like a large Cornish pasty.
Carefully place the calzone on a floured baking tray and bake for 10 minutes until golden brown. Repeat for the second calzone or make up as a traditional pizza. Serve with a fresh salad.
Sandwich Heaven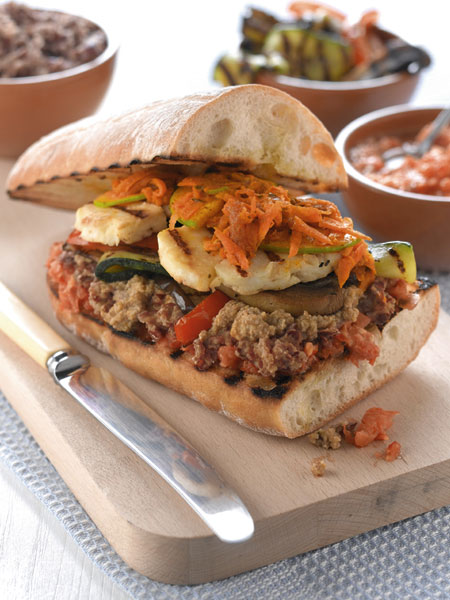 Ingredients
Filling one—Twice Cooked Meddi Veggie
1 small aubergine, cut lengthways into thin slices
1 red pepper, deseeded and cut roughly into 8 pieces
2 courgettes cut lengthways into thin slices
2 field mushrooms, sliced
½ tsp of thyme
1 tbsp olive oil

Filling two—Spiced Apple, Apricot and Carrot
1 apple, cored and sliced thinly
100g ready to eat apricots, sliced thinly
1 carrot, grated
1 tsp of curry paste
Juice of half a lemon
Filling three—Kidney Bean Paté
1 standard tin of kidney beans, drained and rinsed
1 clove of garlic, crushed
1 lemon, juice only
¼ tsp vegan stock powder
¼ tsp chilli powder
Pinch of salt
Filling four—Tomato Zing
100g sun blushed tomatoes
200g vine tomatoes
Pinch of sugar
Filling Five—Simple Mushroom Paté
1 tbsp olive oil
200g chestnut mushrooms cut into quarters
1 garlic clove crushed
¼ tsp, vegan stock powder
¼ tsp paprika
Filling six—Griddled Halloumi
100g vegetarian halloumi cheese

Method
For the Twice Cooked Meddi Veggie filling, toss all the ingredients in a bowl then spread on a roasting tin and cook in the oven at 200°C for 20 minutes, turning once.
Once the vegetables are roasted, heat a griddle pan to a high temperature and place the vegetables on in batches to create score marks, for approximately two minutes on each side.
For the Spiced Apple, Apricot and Carrot, place the apple, apricot, carrot and curry paste in a bowl and gently stir. Add the lemon juice and give it a final stir. Cover and set aside.
For the Kidney Bean Paté filling, place all of the ingredients into a food processor and whizz until smooth.
For the Tomato Zing filling, place the ingredients into a food processor and blend. Transfer to a bowl, cover and set aside.
For the Simple Mushroom Paté filling, gently heat the oil in a frying pan and add the mushrooms and garlic. As the juice from the mushrooms starts to appear, add the stock powder. Continue to cook until most of the liquid has evaporated, then place in a food processor and blend.
Finally, for the Griddled Halloumi, simply place the slices of halloumi onto a hot griddle pan for three minutes.
Once the fillings are made, slice two ciabatta loaves and toast on a hot griddle pan, for approximately two minutes.
Place the fillings onto the bread to create a stack effort in the following order: tomato zing, kidney bean paté, simple mushroom paté, twice cooked med, griddled halloumi and finally, spiced carrot and apple.
Food from My Childhood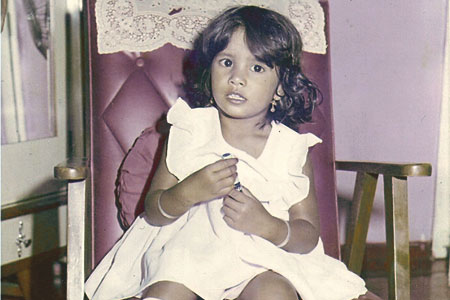 Zeenat Maudarbocus talks about her favourite dish from Mauritius.
I grew up in the capital city of Port-Louis on the island of Mauritius. I loved eating 'rougaille poisson sale' amongst many other wonderfully cooked dishes by my mother and grandmother. They both had their own tailored recipes for my favourite dish, which consisted of salted fish, commonly known as 'Snoek', cooked in tomato sauce, onions, garlic/ginger paste, spring onions and chillies.
During the cyclone season in Mauritius, it was the most enjoyed dish; the wind would be blowing wildly outside and it would be raining torrentially but all of us would huddle in the kitchen, waiting patiently for the rotis and rougaille poisson sale to be prepared. Sometimes, it would be served on a bed of white rice, accompanied by brown lentil soup and steamed vegetables, including spinach, chow chow, aubergine or pumpkin. I remember waiting for my mum to finish cooking and using pieces of leftover bread to dip into the sauce left at the bottom of the pan.
I cook it here in England now and introduced it to my two boys and husband recently, who now fight to finish it off. Even though I live in England, I want my boys to enjoy and experience authentic Mauritian cooking.
When I go on holiday to Mauritius, this is the first dish I ask my mum to cook. We didn't have it easy growing up, however we always had the warmth of delicious dinners to fill our tummies. We always had family, neighbours and friends enjoying meals with us; those communal feasts always made me feel so proud that we were able to share with others. I now get compliments that my food tastes like my mum's, something I have become rather proud of.
Share this


Link to this
Printer Friendly