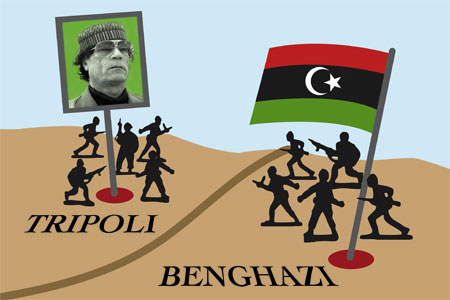 The need to tread carefully
Issue 80 May 2011
The West runs the risks of its good intentions (and inconsistencies) leading to distrust.
When the governments of Tunisia and Egypt succumbed to popular pressure, and then protests in Yemen, Bahrain, Saudi Arabia, and elsewhere seemed likely to create similar results, observers excitedly talked about a "domino effect" that would topple one Middle Eastern dictator after another. I also dearly wanted that to happen, but realised that not all despots would go quickly, quietly or at all. It was always unlikely that Libya's Muammar Gaddafi would throw in the towel.
I also knew that the West would do all it could to stop Gaddafi's struggle for power from frightening freedom-hungry Muslims across the region into acquiescence and from encouraging other dictators to cling to power. The West was unanimous: Gaddafi must be dealt with so that the spread of freedom could continue.
Yet the rush to intervene was as surprising as the speed of the UN Security Council in approving a no-fly zone to prevent Gaddafi's forces from defeating the armed rebels in Benghazi (or deliberately targeting civilians, as the UN Resolution cast it). Strangely, that resolution condemned human rights abuses and torture to which the world (and the UN) had turned a blind eye for decades. When western aircrafts began to destroy tanks and a downpour of missiles wrecked Libya's air force and air defence system, various leaders congratulated themselves for preventing an "atrocity" or "slaughter" — evocative words which conjure up images of a Srebrenica-scale massacre.
Gaddafi is wretched and we should not have welcomed him back into the fold a few years ago. His tirades in recent weeks about rooting out "rats" were disgraceful. Yet we do not know that his army would have "slaughtered" civilians in a Srebrenica-style massacre. Even if it had defeated rebel fighters and strongly reasserted authority over Benghazi, it is unlikely that this would have crushed the hopes of freedom-seekers elsewhere in the Middle East (or even in Libya for long). The protests in Yemen and Bahrain already had an inexorable momentum, and the subsequent burst of popular discontent in Syria was hardy inspired by NATO's military intervention in Libya.
Even if they have saved dozens or hundreds of civilian lives, western armed forces should not now be tempted into becoming what their critics already see them as: the air corps of a rebel army. Preventing civilian deaths in Benghazi is one thing; militarily supporting the armed resistance of people NATO knows almost nothing about is quite another. Critics are already noticing how elastic that UN Resolution is.
To prevent Gaddafi's army from advancing further eastward upon Benghazi, and the rebel army from advancing westward upon Tripoli (with its own high likelihood of civilian casualties among those unable to escape urban combat), NATO should inform both sides that it has marked out a mid-point line in the sand across which no side can advance. The enforcement of a true ceasefire and the continuation of stringent punitive financial measures against Gaddafi would give the UN time to learn more about the rebels and would end this awful back-and-forth warfare between Gaddafi loyalists and rebels (which western air power finds difficult to stop anyway). It would also give the UN time to develop a better and clearer strategic plan for Libya and would let the Libyan people itself (the whole population) decide what it wants for the future.
A sad irony is that government security forces elsewhere in the region (in Yemen and Bahrain in particular) have been shooting unarmed protesters — even picking them off with snipers — and have received nothing worse from western leaders than a mild telling off. The West's inconsistent policies have not been lost on critics, who note, for example, that America seems reluctant to push too hard against those nations which buy its weapons and, more importantly, harbour its fleets. Critics also note that the West said virtually nothing when Bahrain used Saudi and other Gulf troops to aggressively suppress popular protests. Going easy on oil-supplying or military-harbouring states which violently suppress democratic protests, while simultaneously trying to change the government of an unfriendly oil-rich state, is hardly likely to persuade West-sceptical people across the globe that this is anything more than self-interest.
I do not believe that western leaders' motives are as misplaced as they were in 2003. I also want to see a free Libya without Gaddafi. Yet I worry that the rush to intervene again in a Muslim land without a well-reasoned strategy, even ostensibly to stop a bad man from misbehaving, may yet convince observers that there is more going on behind the scenes than at first there appears.

Dr Joel Hayward is Dean of the Royal Air Force College, and an author and poet. These are his personal views only. Read more of his articles here.
Share this


Link to this
Printer Friendly