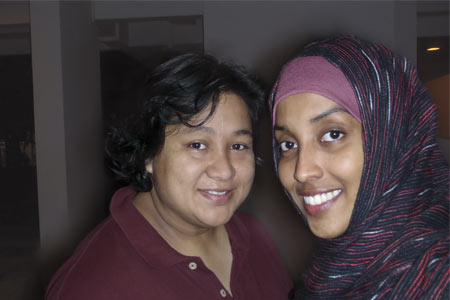 Kith and Kin - The Art of Friendship
Issue 80 May 2011
Zaytun
I first met Azizah around ten years ago. On the surface, she appeared quite shy but I could tell she was a very strong-willed person. Our relationship has developed quite substantially over the years; going from complete strangers to business partners and now, best friends.
We decided to go into business together on the basis of my passion for henna art and Azizah's great business vision. We set up MiztiQ Henna & Body Art, aiming to teach the art of henna to others.
After three years of running a successful business, we were invited to teach henna art in Japan. We toured the country and were featured in numerous magazines. It was tough at first because we didn't speak Japanese, nor did our students speak English. Somehow, they picked up the skills when we would demonstrate them in the classroom, and we managed to establish a universal language through our henna art. We lived there for half a year and on our return to Singapore, we got a lot of publicity based on our experience. The trip strengthened our friendship; we had only recently got to know each other when we agreed on the tour. Being in a foreign land together made us reliant on one another and we developed great trust in our friendship from the outset.
Our similar views on business ethics and core values have greatly contributed to our success. We both believe that customer service is at the heart of business success, and we both love to be of assistance to those who are in need.
We have also travelled a lot together, mainly around South East Asia and in particular, Malaysia, Indonesia and India. We also went on a three-week trip around Europe, including a Mediterranean cruise along Italy, Spain, France and Tunisia. That was a pretty memorable experience; we'd wake up every morning to a sumptuous breakfast in a different port!
A couple of years ago, we were both in a car accident and I was very badly injured. Azizah supported me throughout my entire recovery, accompanying me to all my doctor's appointments. She kept planting positive thoughts in my head, reminding me constantly that everything that happens has some hidden wisdom in it and to keep my faith strong.
Azizah is one of the most genuine and sincere people I've ever met. I always know that in times of trouble, I can call and count on her every time.
Azizah
When I first met Zaytun, she came across as a very bubbly and friendly girl, and we instantly hit it off. Not only did we do business together, we spent a lot of time in each other's company outside business, travelling to various countries to try different cuisines and find the best beaches around.
We have pretty much the same outlook in life, and have complete respect and trust for one another; we always strive for the best for each other. Like all friends, we also have our differences. Zaytun loves to sleep in, but I'm up at the crack of dawn. She loves to take pictures, but I'm not too keen on photography and she loves keeping the heater on wherever she goes, but I'm addicted to the aircon!
She's also a lot more cautious than me; I'm quite hyperactive and always bouncing around, looking forward to our next adventure. This creates some friction in our business relationship but if and when we ever encounter any issues, we discuss them. I'm so grateful for that ease in communication; it's one of the fundamental components of any relationship.
Around six years ago, we were heading to Zaytun's house in a taxi when we were involved in an accident with a huge army trailer. Both of us were in extreme pain, and had to be rushed to hospital straightaway. I had torn a tendon over my left arm, suffered multiple bruises, and was having trouble breathing. After numerous medical observations, X-rays and CT scans, Zaytun had to be rushed into surgery. Following the surgery, we found out that there was a chance that Zaytun could be paralysed. She suffered fractures to her spine, ribs and foot, and had two metal rods fixed to her spine and eight metal screws drilled to her bones.
Fortunately, Zaytun escaped with no paralysis. But she would suffer from lower back pain for the rest of her life. At the time, we should have been pleased that our lives had been spared. We had no clue whether to feel joyous or miserable. The only thing that kept us going was the fact that we still had each other.
Despite our slow recoveries, we recognised that life must go on. It was tough handling MiztiQ by myself, but we had some savings built up to help us.
Since seeing Zaytun recover from the accident, my initial thought of her being an incredibly strong individual has been confirmed. Her limitless courage continues to inspire me.
Share this


Link to this
Printer Friendly