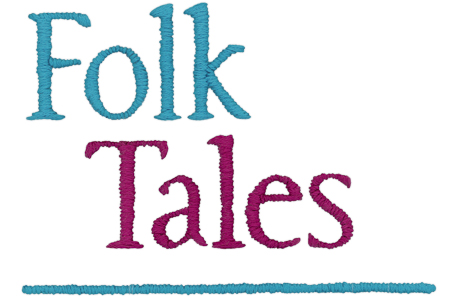 Folk Tales
Issue 81 June 2011
Mix colourful floral prints with eclectic accessories and quirky vintage finds, to create a room full of folksy charm. Join Fatema Zehra as she walks you through the wonderful fusion that is Floral Folk.
This year has seen the revival of several trends; from popular and mainstream styles, to the more outlandish and experimental. Florals with a folk twist are one of this year's brightest and freshest looks. With its large florals and bright, vibrant colours, incorporating this style with your decor gives your living space a bold, lively character.
The trend allows for a merger of two, distinct styles; the bohemian aspect being introduced through the folk, and a more contemporary element with the floral, which creates a unique opportunity to experiment in your chosen interior space. Floral folk is perfect for adding a unique touch to every surface; with a bit of imagination, a willingness to experiment with fabrics, colours and textures, and a touch of home craft and DIY, you can create a wonderful atmosphere.
Embroidered artwork and accessories from Lasso the Moon; Bed linen and furniture from a selection at Niki Jones; Selection of cushions from Niki Jones; Tea towels from a selection at Berry Red.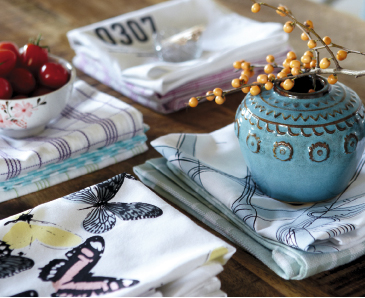 The colour palette for floral folk is inspired by a summer garden, with the amalgamation of a spectrum of shades; from vibrant reds to bright oranges and hues of purple. From these colours, more saturated shades and accent colours develop to help ground and define the space. To make this look work, it is fundamental to keep walks and flooring relatively neutral and plain to help break up the colour. A room with a lot of natural light will carry this look off well. Ideally, starting with a base of neutral floors, walls and ceilings will allow you to bring in a mixture of colours and bold flowers. Start by adding the large pieces of furniture, sticking to an accent colour from the palette, such as deep purple. Accessorise this with bold, floral cushions and a range of textures. With a lot of colour and pattern dominating a room's design, furniture can help create some sense of order. For example, to keep the feel up to date, a modern sofa can help prevent a 'busy' space from developing. The folk element in this trend will also encourage the introduction of light crafted wood furniture, perhaps in the form of a coffee table or matching side tables.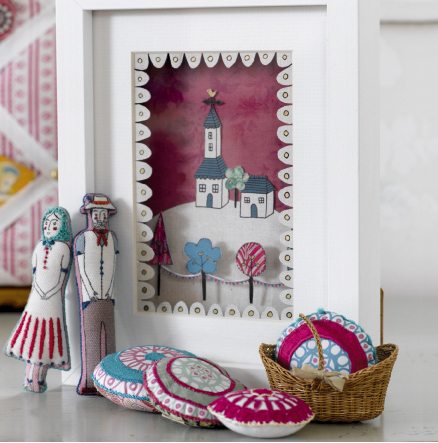 Textiles are the key here. It is with this element that beautiful floral prints and popping colours can be mixed and matched with a range of textures, to help create an authentically floral folk look. A statement choice would be floor length curtains, accompanied by large bloom prints and rugs with big floral designs. Carefully choose which surface to decorate with prints and colours, to help manage a balance and avoid an excess of visual stimulants.
It is probably worth noting here that floral folk carries with it a very apparent feminine feel. As such, it is imperative that your choice of accessories and lighting should reflect this and be sure to avoid chunky, masculine accessories. It is best to stick to dainty, quaint pieces and the more handmade items you can incorporate into your space, the more authentic it will look.
Floral folk is very much the antidote to stark minimalism. The fusion of mismatched floral motifs and quirky colours, adds a folksy charm to every room. Unique vintage shop finds, carved wood and craftwork create a melodic mood board of colours, patterns and textures.
TIPS
Mix vibrant colours and be adventurous with your palette, whilst sticking to shades in the same family to help strengthen a look. For example, pinks, purples and reds complemented with hints of deep blue and grass green work effectively.

Be creative and imaginative when you are thinking from the DIY angle. Experiment with home craft and DIY to personalise cushions, curtains and other surfaces. Crochet flowers, patchwork and pretty edging to help complete the floral folk look.

The rule is anything goes. But with so many bold colours and prints, it's best to keep walls and floor surfaces simple and neutral to avoid the cluttered look.

Statement furniture is ideal; either plain sofas in a bold colour or bright throws to customise an existing set.

Retro pieces can be introduced with existing furniture to create an eclectic mismatch set-up.

Mix quirky accessories and unusual finds to create a room full of character. Visit your local car boot sale and charity shop for the perfect second hand and vintage finds. The key is fun accessories that add a colourful and unique burst of character.
STOCKISTS
www.lassothemoon.co.uk
www.berryred.co.uk
www.niki-jones.co.uk
www.tesco.com
Share this


Link to this
Printer Friendly