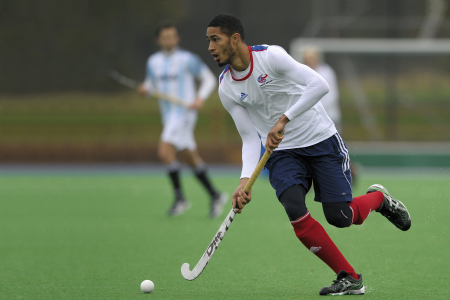 Going for Gold
Issue 81 June 2011
Aged 11, on his way back from a hockey training session at Arsenal FC, Darren Cheesman turned to his mum and said, "One day, I'll play in the Olympics." Nearly 15 years later, Darren is staring that dream right in the face. The field hockey star talks to Zara Singh about a glittering hockey career, his journey to Islam, and aspirations to play in the London 2012 Olympics.
It is half time on the pitch and Darren Cheesman raises his hands to offer a prayer, asking God to make his team successful. A few minutes later, Darren lives out his most memorable moment so far as he scores his debut goal for Great Britain, and with it, his Olympic dream appears to be that little bit closer.
The hockey international, who also plays for East Grinstead HC, started his hockey career at the tender age of 10, when Arsenal's Sport in the Community Programme came to his school. Instead of letting the children play football, they were taught to play hockey. "It was so fun, exciting and full of skill," says Darren. "I fell in love with the game straight away."
Darren's skill and ability was recognised and nurtured right from the beginning, being selected to play for Essex almost immediately, and then asked to train with an England Junior Development squad aged only 13. Nicky Thompson, ex-GB International and Darren's first club coach articulates just how talented he is, "He is probably one of most gifted players I've ever coached."
It was not always plain sailing, however. His first attempt to get into the Under 16 squad failed and he was ready to give up. It was then that he turned to his mentor, Freddie Hudson, the Sports Development Manager at Arsenal FC, who gave him some advice that would resonate with him for the rest of his life, "He said that everything happens for a reason, and not getting selected would make me train harder, and make me a better player. We would meet at Arsenal three mornings a week from 6am to do additional fitness and hockey training. He made me understand the concept of excellence, as opposed to 'just being good enough'. He is an amazing man and has always been like a father to me."
Darren went from strength to strength, and in 2005, he went to play professionally in Holland for Oranje Zwart. Darren loved it, as he got to play with and against the best players in the world. Despite being almost fluent in Dutch, he found it tough being away from home. The experience proved to be a life changing one. But the biggest change in his life was yet to come. On his return to London, Darren made the decision to embrace Islam and did so a year later, in 2006.
"I like to understand things, and I didn't understand why my Muslim friends weren't the same as those being portrayed negatively in the media. So, I bought some books and it all just made sense. It was tough at first as my mum had been affected by the negative portrayal of Islam that was circulating in the media, but after watching me on my journey with faith, we have become incredibly close."
Freddie Hudson also saw a notable change in Darren after he converted, "Darren is a young man that I am hugely proud of, not just because of his achievements but because of the person he is. Since his connection with Islam, there has been a notable difference and things seem to be so right with him at the moment."
Darren finds the etiquettes and mannerisms of the Prophet Muhammad to be a great inspiration to him and a constant reminder of how to carry himself. He greatly admires Shaykh Imam Ahmed Saad of North London Central Mosque, and an elderly brother, Omar, who is now a close family friend. "They are simply unique and have the sweetest hearts. The relationship they have with God is incredible and something I strive to achieve."
So, how does Darren stay committed to his faith and sports simultaneously? He admits that playing hockey during Ramadan is tough, but he believes that it makes him stronger. "I remember during one Ramadan, I was at training where we had a fitness test on the first morning. We had to run a thousand yard shuttle and I ran it in under three minutes, which was a squad record. I firmly believe that if you do for the sake of God, you will be rewarded and things will be made easy."
One of the things Darren loves about his role as an international athlete is the ability to go back into communities to help inspire the next generation. His goal is to encourage every single person that he has contact with at those sessions to use sport as a way of boosting social skills, organisation, focus, and confidence. "I came from a completely different background to my team-mates, but looking back, that was one of the things that made me work harder at hockey. I wanted people to respect me as a hockey player. Someone like me is an example of how hockey can reach out to everybody."
The build up to the Olympics is going to be tough and includes long spells away from home, which is why he cites the support of his family, friends and well-wishers to be of utmost importance. He is keeping his eyes on the prize and knows that every minute spent running, in the gym and on the training field, will help his dream come true. Darren Chessman is definitely going for gold and with his formula of strong faith, hard work and commitment, there is no doubt he will achieve it.
Career Highlights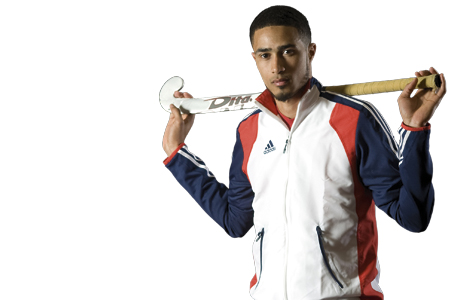 England A, U21, U18, U16, Juniors

U18 European Cup, Player of the Tournament

U18 Four Nations, Player of the Tournament

2004 British Young Player of the Year

2007 Junior Olympics, Silver Medal

2008 England Premier League, Player of the Year

2009 England Premier League Champion

2010 Great Britain debut vs Argentina

2011 National Indoor Hockey Finals Champion
Greatest Sporting Moments
Unlikely Coincidences Sporting Curses

Curse of the Bambino
The Boston Red Sox didn't win a World Series for over 80 years until 2004 after selling Babe Ruth to the New York Yankees, while the Yankees won 26 during that time. Before the sale, they'd won four titles in seven years.
Write the Future
All the footballers featured in the Nike advert before the 2010 World Cup gave abysmal performances. Drogba, Ronaldo and Rooney all played terribly and Ronaldinho didn't even make the cut for the Brazil team.
Sports Illustrated
Many athletes featured on the cover of Sports Illustrated went on to have bad luck. Racecar driver Pat O'Connor died four days after appearing on the cover in May 1958. The magazine investigated to find 37% of their cover subjects experienced misfortune soon after the shoots.
KNOWING YOUR PRIORITIES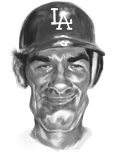 The difference between the old ballplayer and the new ballplayer is the jersey. The old ballplayer cared about the name on the front. The new ballplayer cares about the name on the back.
Steve Garvey
Illustration by stephen lorenzo walkes
Photography of Darren Chessman by Ady kerry/ehb
Share this


Link to this
Printer Friendly