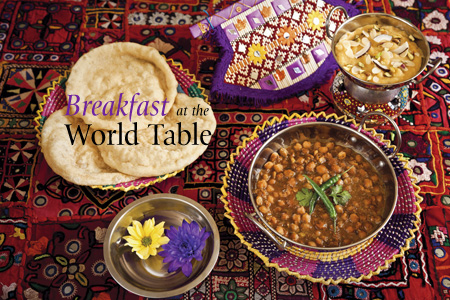 Breakfast at the World Table
Issue 82 July 2011
Wake up and be inspired by the wonderful flavours of the world. Saman Khwaja brings you a selection of tasty breakfast dishes to kick-start your morning.
Malaysian Nasi Lemak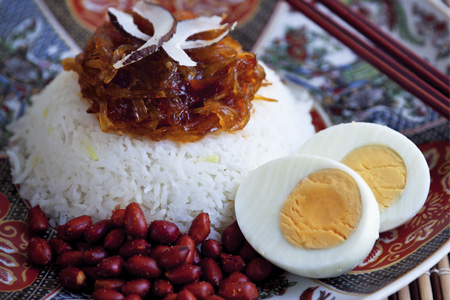 Ingredients
For the rice
500ml coconut milk
500ml water
1/4 tsp ground ginger
Piece of fresh ginger
Peeled and thinly sliced salt to taste
1 whole bay leaf
2 cups long grain rice, rinsed and drained
For the garnish
4 eggs
1 cucumber
Oil for frying
150g raw peanuts
113g packaged white anchovies, washed
For the sauce
2 tbsp vegetable oil
1 medium onion, sliced
3 cloves garlic thinly sliced
3 shallots thinly sliced
2 tsp chilli paste
113g packaged white anchovies, washed
Salt to taste
3 tbsp white sugar
50ml tamarind juice
Method
In a medium saucepan over medium heat, stir together coconut milk, water, ground ginger, ginger root, salt, bay leaf, and rice. Cover and bring to the boil. Reduce heat, and simmer for 20-30 minutes or until done.

Place eggs in a saucepan, and cover with cold water. Bring water to the boil, and immediately remove from heat. Cover, and let eggs stand in hot water for 10-12 minutes. In the meantime, slice the cucumber. Then, remove the eggs from the hot water, cool, peel and slice in half.

Meanwhile, in a large skillet or wok, heat oil over medium-high heat. Stir in peanuts and cook briefly, until lightly browned. Remove peanuts with a slotted spoon and place on paper towels to soak up excess grease.

Return skillet to stove. Stir in the contents of one packet of anchovies; cook briefly, turning until crisp. Remove with a slotted spoon and place on paper towels. Remove oil from heat.

In another skillet, heat two tablespoons of oil. Stir in the onion, garlic, and shallots; cook until fragrant, for approximately one to two minutes. Mix in the chilli paste, and cook for 10 minutes, stirring occasionally. If the chilli paste is too dry, add a small amount of water.

Stir in remaining anchovies and cook for five minutes. Then stir in salt, sugar, and tamarind juice; simmer until sauce is thick, for approximately five minutes.

Serve the onion and garlic sauce over the warm rice, and top with peanuts, fried anchovies, cucumbers, and eggs.
To read more breakfast recipes, plus behind the scenes footage and more interactive content, log on to http://digital.emel.com to get your digital issue today.
Share this


Link to this
Printer Friendly