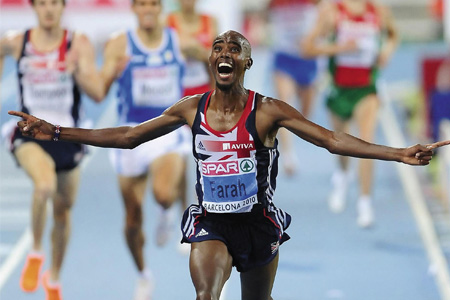 Ready, Steady, Mo!
Issue 82 July 2011
This article was first published in July 2011.
Mo Farah has been breaking records like windows over the past few years. Winning yet another title this weekend at the Birmingham Diamond League, Ali Khimji sat down with him earlier this month to discuss athletics, faith and living with Kenyans.
Things had been looking up for Mo Farah prior to the 2008 Olympics: he had broken the British Men's 10,000m road record in May, which had remained unbeatable for eight years. However, he missed out on qualifying for the 5000m Final in Beijing.
Nevertheless, Mo was still reeling from the adrenaline of the Olympics in Beijing. "It was a phenomenal atmosphere. Everyone was always in a good mood and we were very well catered for — including unlimited halal meat 24 hours a day!"
But where did his illustrious athletics career set off from? Born in Somalia and raised in Djibouti, Mo arrived in England at the tender age of eight. "It was difficult not being able to speak a word of English at first, but my parents helped me out with the cultural change." His P.E teacher, Alan Watkinson, spotted his talent for athletics and made a deal with Mo; he could play football after school, if he would train at the running club following that.
His professional career got off to a flying start as he established himself as one of Britain's most promising long-distance runners. He participated in the 5000m event at the 2006 European Athletics Championships, and narrowly missed out on first place by half a second.
After participating in several other races in the following years, things really turned around for Mo from January 2009. "I started to train harder and made some changes in my life. I don't think I had taken advantage of what I was able to do before then and after spending time training in Kenya, I came back more focussed and determined to win."
He set a new British indoor record for the 3000m, but proceeded to beat this by a further six seconds a few weeks later. His perseverance paid off and he took gold in the 3000m at the 2009 European Indoor Athletics Championships. He went on to compete at the 2009 World Athletics
Championships and was leading the race early on but dropped down to finish seventh in the final few laps. Mo's biggest achievement to date came at the 2010 European Athletics Championships, where he took gold medals in the 5000m and 10,000m.
He became only the fi fth man to do the 5000m/10,000m double in the competition's 66-year history, the fi rst man to do so in twenty years, and the only British man to have ever done it. "The 5000m race has to be my most memorable one. It was a relief that all the hard work I'd put in over the years had finally paid off."
Another record was broken that year, as he ran the 5000m in 12:57.94, fi nally breaking David Moorcroft's long-standing British record. He was also named 'track and fi eld' Athlete of the Year by the British Olympic Association.
This year has been no different; Mo has already broken the European indoor 5000m, taking ten seconds off the previous record, and the European 10,000m record, which had remained unbeaten for 12 years.
So, what is the secret behind Mo's success? Training with Kenyan athletes has certainly helped him. "It's humbling to see that some of the world's greatest athletes are still living basic lifestyles, despite their success. We'd all just eat, train and sleep every day. Even then, it was simple food and three or four of us would sleep in the same room. It shows that you don't need a lot of material things to be the best at what you do." Faith also plays a big role in his life. "It keeps me strong and focussed. I'm always grateful for every experience which comes my way."
Mo has recently moved to Portland, Oregon in order to train with Alberto Salazar, a world-renowned coach.
He has also been fortunate enough to have the support of his family in his endeavours. Last April, Mo went on honeymoon with his wife, Tania, to Zanzibar. However, as the ash cloud gathered over Europe and fl ights began to be grounded, Mo felt himself losing fitness and asked Tania to return back to England so that he could go up to the mountains in Kenya to resume training. Knowing her husband well, Tania agreed to do so. Family values are of great importance to Mo and have been instilled in him since he was very young. When asked who the biggest infl uence in his faith is, he is quick to reply, "Without a doubt, my mother. She raised me to be a good Muslim, as well as a good person. Even now, she regularly asks me if I've been keeping up with my prayers and partaking in good activities." So, how does a persistent record breaker prepare himself for races? "My main approach is to simply train hard. I also believe you should know your opposition in order to prepare effectively, instead of going into a race blind. Typically, I'll run twice a day, once in the morning and once at night. I also go to the gym a few times a week."

Mo will defi nitely be looking forward to next year's Olympics, as they'll be held in the city he grew up in. "Every athlete dreams of participating in the Olympics, but to have it on your doorstep makes it extra special. It always helps to have the support of the home crowd, especially during the fi nal stages of the race." But he has his mind fixed on more pressing issues for now. "I have to take one race at a time and not look too far ahead. The main focus is the World Championships this August in Daegu." As Mo enters the World Athletics Championships, fl ying the fl ag for not only Britain, but also Europe, it is clear that he has covered a lot of ground since arriving in West London with dreams of playing on the right-wing for Arsenal. Having conquered British records and establishing himself as the European champion, the only hurdle now left is to win an international world championship.
To read more of this article and watch an exclusive interview with Mo Farah, plus behind the scenes footage and more interactive content, log on to http://digital.emel.com to get your digital issue today.
Share this


Link to this
Printer Friendly