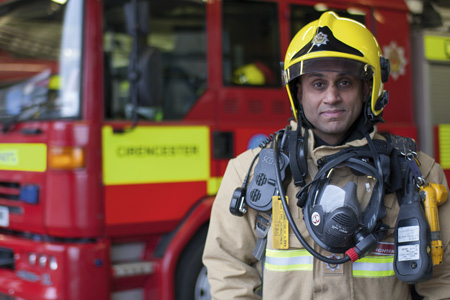 A Week in the Life of Faisal Atcha
Issue 82 July 2011
Most of us whine that there aren't enough hours in the day. Yet Faisal Atcha spends his days fighting fires, bird-keeping and engaging in community projects.
With three full-time jobs, my life basically revolves around my wrist watch; it actually feels like a pair of handcuffs when I put it on in the morning! I spend three days and nights each week as a fire-fighter with Gloucestershire Fire and Rescue Service. I also tend to my birds of prey each morning after fajr, as well as working on projects for The Friendship Cafe, a local community organisation. And on top of that, I'm the father of five completely mad but equally wonderful children.
I've been with the fire service for about three years now. I've always been into fitness and have a pretty active outdoor lifestyle, including hiking, cycling and rock climbing, so it seemed pretty natural to do a job that's quite physical. I also did a stint with the Territorial Army as an infantry private, so I learnt a lot about the discipline behind uniformed services: the ability to get on with a job regardless of who you're working with.
I've attended some very bizarre call-outs in my short career so far. We've had exploding Christmas puddings, cows stuck in rivers and even a dog wandering around on a rooftop. Once, we had a man who was happily telling jokes whilst his arm was trapped underneath his van, which had flipped over onto its side. Strangely enough, I've only had to rescue one cat stuck in a tree!
To read more of Faisal's account and gain access to exclusive videos, plus behind the scenes footage and more interactive content, log on to http://digital.emel.com to get your digital issue today.
Share this


Link to this
Printer Friendly