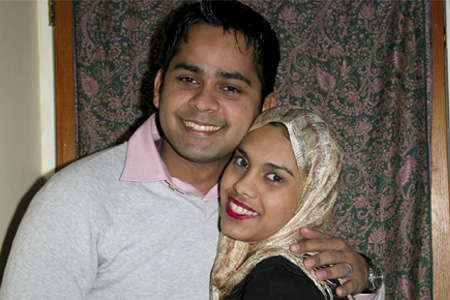 You've Got Mail
Issue 82 July 2011
Cousins, Hamida and Sharif, did not expect to fall in love. Living in two different countries, an email exchange sparked something special between them.
Hamida
When my brother in law initially approached me about Sharif, I was in my final year of university, so marriage wasn't even on my mind.
Nearly two years later, my brother in law spoke to me again and this time, I considered his suggestion seriously. We initially planned a trip to Bangladesh so Sharif and I could meet each other, but that fell through. As a result, we began exchanging emails.
After his initial email, I could tell that I liked him straight away. I would always check my email on the bus to work, and would look forward to each reply. I'd often find myself smiling and in a better mood when he did email me back. Over time, I felt myself falling in love with Sharif.
Sharif
I would wait impatiently for her emails and continuously checked my inbox for her replies. I never had any real doubts throughout the whole time we were talking, as my parents and sisters would constantly assure me that I had made a very good decision. As a result, when it came to the nikah ceremony, I didn't feel nervous in any way. In the few days between the nikah and Hamida coming to Bangladesh for the walima, I spent much time preparing for her arrival. I was going back and forth between Dhaka and home to do all the necessary shopping.
To read more of Hamida and Sharif's story, as well as gain access to exclusive videos, plus behind the scenes footage and more interactive content, log on to http://digital.emel.com to get your digital issue today.
Share this


Link to this
Printer Friendly