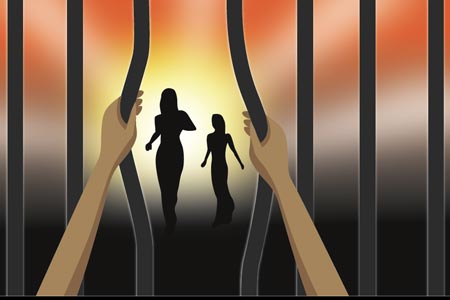 The Right Time and Place
Issue 84 September 2011
Challenging every sphere, from football to fashion, women are beginning to make their mark in every capacity.
Earlier this year on International Women's Day, a group of Egyptian women went to Tahrir Square to highlight the need for greater rights for women in Egypt. Weeks of social unrest had given rise to a revolution that had seen men and women standing side by side. The response to the womens' presence on this particular day was therefore unexpected: they were surrounded by angry men who told them "not now" and "what the hell are you doing here? You should go home!" 'Wrong time, wrong place' seemed to be the general consensus as far as the women could tell. Now jump across to the other side of the world to an Australian beach a few weeks later. Celebrity chef Nigella Lawson is photographed wearing a body-covering, burqini swimsuit. The international press was up in arms. 'How dare she cover herself up on the beach?' We don't know if she had any 'modesty' motive, but maybe it had the benefi t of being a snub to the media and their prying lenses. Again, the message to Nigella for her choice to cover her curves was 'wrong time, wrong place'.
So the question is — when it comes to women asserting their choices and rights, when exactly is the right time and place? Commercial imperative is a strong driver. One such example is the growth of the Islamic fashion industry, which is giving Muslim women the chance to break out of both the narrow constraints of modern western fashion, as well as the wider political discourse which mis-portrays modest dressing as a form of oppression. One example of how businesses should look at the commercial opportunities is a piece of research by The London College of Fashion, observing the rise of online shopping for modest clothing, hich is appealing to not just Muslims, but women of other faiths too. Take also the Islamic Fashion Festival's recent invitation to exhibit at Milan Fashion Week next year. Milan is the centre for global fashion, and they are showing their recognition of islamic fashion, which is defi ned by Muslim women; acknowledging that it is going to be both infl uential and commercial. The confl uence of commerce and zeitgeist has created a 'moment' that is right for women to assert themselves and their choices.

Given the huge focus on the way that women — especially Muslim women — dress, developments like Milan Fashion Week are signs that women are fi nding their own right time and right place to express themselves. Sport is another arena where women's choices and talents are coming to the fore. Look at the case of women's football. Once, female sports stars felt the need to pose provocatively in newspapers and magazines in order, they claim, to counter the idea that they are 'butch'. Even the controversial FIFA president, Sepp Blatter, suggested that female football players ought to
wear tighter shorts in order to look more attractive. But the Women's World Cup held in July told a different story. It was far more exciting than the men's tournament, so much so that it became the most-tweeted event ever; a show of pure talent, which has put women's football on the map. Sport and business are woven into the cultural fabric of societies, and so it is no wonder that changes in these arenas are breakthrough moments. But we need political and civic activity too — we need the media to be challenged. These may appear as 'failures' to start with, but they start chipping away at those who put blockades in the way of women. Every sphere must be challenged because at some point, each one will give way to the right time and the right place for women to make a change. Footballers and fashionistas have already made the key point: women can, and will, shine for their talents and their choices.
Shelina is the author of Love in a Headscarf, and writes a blog at www.spirit21.co.uk
Share this


Link to this
Printer Friendly