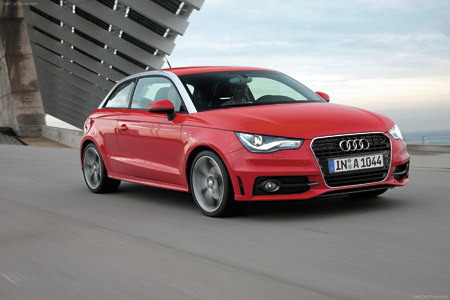 Little Luxuries
Issue 84 September 2011
Many manufacturers have tapped into the supermini market over recent years. Fazeel Ashraf takes the Audi A1 for a spin to see how it sizes up against its rivals.
The British are brand loyal. We tend to stick to stuff that our friends and family use, or play it safe and support brands that are always in your face. But why exactly do we do this? It's simple: we love buying into the brand and are afraid to look elsewhere. Whether food, fashion or gadgets, we seem to love buying into a brand and it is no different when it comes to cars, as Audi now try to enter the city car world.
A huge number of rivals have been launched over the last few years in the supermini segment as car makers have clocked on to the cash cow that exists in small cars. Audi are late in the game in bringing out a small city car so they are relying on their brand to bring in custom. They neither have a 1960s icon to latch onto, or even some new technological innovation. So, what is the new A1 all about?
At a glance, the new A1 does not appear to bring anything novel to the world. In fact, it is largely based on the already tried and tested VW Polo. Is this just a case of changing a few body panels and adding a few thousand to the price tag? After all, if adding a particular tag like 'finest' to custard creams can add a few pounds to the price of biscuits, then why can't car manufacturers do the same?
The A1 sits taller and wider than the Polo and thus gives that slightly staunch dense look. There is the familiar Audi grill and lights, and most on-lookers will find it hard to distinguish between other cars in the Audi range. It lacks the iconic factor of the BMW Mini or even the Fiat 500, but in fairness, it does carry the subtlety of a premium brand.
Fortunately, the interior design is what sets the A1 apart. The fit and finish is absolutely fantastic and great to touch. Again, while it might not be as funky as the Mini or even a Citroen DS3, it could rival that of much larger cars. You will find a refined, sophisticated layout which creates an ambience not found in small cars before—though that should not surprise anyone, seeing as it is made from the same people who make Bentleys. The driver's bench has a wide range of adjustment making it a doddle to find a comfortable driving position. Move to the back and it is not much fun for those above average vertical construction. However, any shortcoming in lack of rear space is made up with a very generous boot space—considerably more than the BMW Mini.
As with any city car, what is under the bonnet is crucial. The slick shifting five-speed manual transmission helps the 1.4 litre petrol hatchback achieve a sprightly zero to sixty in 8.9 seconds. Being equipped with stop-start technology goes to providing an impressive fifty miles to the gallon. There is a diesel version too, which if the claims of 70mpg are true, will suddenly become tempting to many. Around the streets, the A1 soaks up potholes and bumps, but most importantly, it feels concrete. There is no feeling of driving something akin to a coke can whatsoever. A compliant ride is not at the expense of road handling either, with the small A1 proving composed whether on the motorway or on a country lane. It may not be as sharp as that of the BMW Mini but after a few days in the A1, I am somewhat convinced it will be more of a hit with people who have eliminated the words 'funky' and 'cheeky' from their vocabulary.
Standard features on my A1 included climate control, audio system with MP3 connectivity, full electrics, keyless entry and a multi function steering wheel. For a small car it is packed with options, but be aware that if you want some of the 'bling' options, it will cost you. The retina burning Audi daytime running lights only come as standard on the more expensive versions, otherwise they will set you back over a thousand pounds. The same goes for the likes of the Xenon headlights, and as prices for the base version start at over £13,000, the A1 suddenly looks like a wallet cleansing exercise rather than a ruse to achieve cheap city motoring. This is particularly true when you consider a new VW Polo can cost as little as £9,000. You can even get the Polo with exactly the same engine, except you have to do without the first-rate Audi embossed interior.
If you are hankering for a premium city car then the A1 might be just the ticket, as living with one will provide the solid luxurious feeling of vehicles of much larger statures. The A1 retains the trademark quality of all other Audis, and the decrease in size makes it a practical choice for a city runabout even if it is not cheap. If it is the brand you are going for, then be my guest. However, if you want something with more than just a nice interior that can provide some vitality too, then you will have to head back to the BMW garage. For me, the Mini still seems to hold the crown for zing factor; but watch this space as Audi are rumoured to be making a hot hatch version!
www.audi.co.uk
Share this


Link to this
Printer Friendly