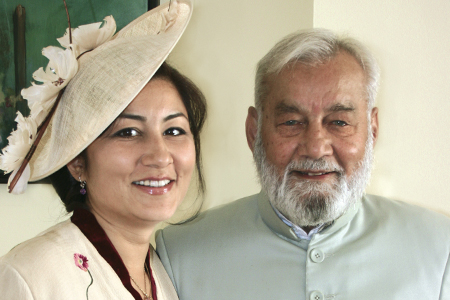 In Memory of Noor
Issue 84 September 2011
He had only planned to stay a short while. Forty nine years later, Shafique Naqshbandi reflects on his early experiences of UK life, and his committment to kidney disease sufferers in Pakistan.
I stepped off the plane in Manchester and wrapped my heavy overcoat around me. It was 9th November 1962, and it was cold and wet. With a deep breath, I made my way towards my waiting friends.
I was born on 2nd June 1933 in Agra, India, one of 14 children whose mother died in childbirth when I was eight years old. We subsequently moved to Pakistan where my father was a very busy doctor. As one of the older children, I was very involved with bringing up my younger siblings. Life was hard, but we were a close and happy family.
I had a dream as a boy to explore the world. Despite having set up a very successful business in Pakistan, I had the itch to travel and so I set off for the UK, handing over my business to my brother. I had heard that the roads in England were made of cork and rubber and the streets were smooth and spotless. Therefore, the cobbled streets of Manchester were quite a shock to me!
I had never intended to settle in the UK; the plan was always to return home. Forty-nine years later, I am still here. In the beginning I was terribly homesick. Houses were cold and cramped, with outside toilets and no baths. We had to take a bucket into the cellar to bathe or use the public baths. "What have I done"? I often asked myself. I desperately wanted to go back home, but I felt too proud to return so soon. Weekly letters from my family really kept me going as did my social interaction with other Pakistanis. On Sundays, a cinema would be hired showing Indian and Pakistani films — which was a real treat.
My first job here was selling Wall's ice cream in the middle of November from a cart going door to door. I lasted a day. I then did a variety of other jobs, including working in a factory where we all had to wash our hands in the same dirty water. Realising this, I always raced to be the first to wash. At one job, they started to call me Steve, claiming Shafique was too difficult. Being very proud of my name and heritage, I refused to respond and they soon gave up. I eventually settled into working within the pharmaceutical industry and was the first non-white executive in the industry. It was a successful career that lasted me through to retirement.
In 1966, I returned home to be married and brought my wife, Noor, to the UK. Coming from a close family herself, she too found it difficult to adjust but I was able to help her come to terms with living without her family and support in this country.
I have always been a devout Muslim. When we lived in Hampshire for a while, I was very active in the Muslim community which consisted of people from Pakistan, Kenya, Zanzibar, India and Bangladesh. We were a diverse but strong community. At that time, one of my proudest moments was organising the first Eid prayers in Oddfellow Hall in Portsmouth which we had hired for the occasion.
I eventually moved back to the North and became active in the Muslim community in which, over the years, my wife and I have taught children English and Urdu and raised funds for opening mosques and community centres. Now thankfully, there are mosques in every town, many beautiful purpose-built, all allowing thousands of Muslims to pray shoulder to shoulder.
I became a British national in 1971 as we had decided to remain in the UK and to educate and bring up our children in this country. I still, first and foremost, feel that I am Pakistani and Muslim, but I am equally proud of being part of British society and have many good friends here. As the only Pakistani family in our small village, we are very much a part of village life and I have been involved in vigorous campaigns, such as objecting to planning consent to build large homes spoiling our beautiful countryside.
As a child, I was always taught to help others less fortunate, and much of my father's medical practice was a charitable one. When my wife passed away after a long illness, I decided it was time to put something back into Pakistan, and so The Noor Foundation UK was created in her honour. Thirteen years later, I am proud to say as its founder and Chairman that we help over 1,000 poor people live normal lives through the provision of free kidney dialysis treatment in our 19 centres all over Pakistan. All would have died without help. Now, through this free treatment, fathers are able to work and support their families, mothers bear and raise children and children have a future to look forward to. We are the biggest provider of free dialysis in Pakistan and I am proud to say that as all of us are volunteers, every penny donated goes directly to patient care. All of my family and close friends are involved. The Noor Foundation UK is my greatest pride and achievement and I hope that in the coming years, we can carry on and expand this lifesaving work. Through this work, I have been fortunate enough to meet many interesting people including Presidents and Prime Ministers, and encouraged the setting up of similar centres in Kenya and Egypt.
I am 78 years old now. I've had a quadruple heart bypass, major back surgery and life threatening pneumonia in recent years. My children tell me it is time for me to relax. I tell them that it is the duas of the people that we support that keep me going and I have no plans to stop raising much-needed monies to keep these, and hopefully more, poor people alive. All our funds come from generous people here and in Pakistan, but the global recession has meant that we are struggling. It would break my heart if we had to close any of our centres due to lack of funding.
I think it is difficult for second and third generation Pakistanis, many of whom have rarely visited Pakistan, to connect with people there. I have always thought it very important that my children and grandchildren have a real sense of being Pakistani and they all visit regularly, mostly in connection with the work of The Noor Foundation UK. I am very proud of the way in which they respond to the needs of their fellow and less fortunate Pakistanis.
Should I have stayed in Pakistan? I still have mixed feelings, but I do think I made the right decision for the future of my children, all three of whom are university graduates and very successful in their chosen careers. My heart, however, has always remained in Pakistan and with its people. There is so much negative press about Pakistan that it is easy to forget that even those with very little remain determined, optimistic and generous of spirit. Through The Noor Foundation UK, I have been lucky enough to meet and help many of these people.
For more information about the charitable work of The Noor Foundation UK and to donate securely online, please visit:
www.noorfoundation.org
Share this


Link to this
Printer Friendly