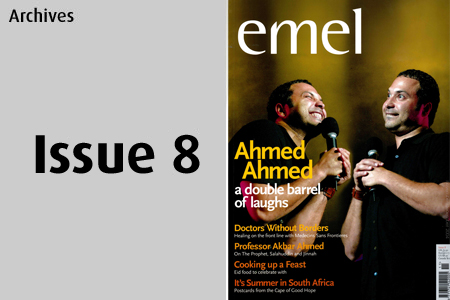 Archives - Issue 8 - November/December 2004
Issue 66 March 2010
We have a selection of top articles that have just been released from our archives. The latest issue to be uploaded is issue 8, first published in November/December 2004.
Take a look at the home page of issue 8 (by going down the drop-down menu at the top of the page) and browse through our features or click on the links below to view specific articles.
Editorial - Changing in an ever-changing world
Ziauddin Sardar - Why are Muslims so boring?
Faisal al Yafai - Make your point
swiss made replica watches clone watches
Features
Doctors without Borders - A feature on Medicines sans Frontieres
Muslim Prisoners - On the inside the Sun still shines
Islamic Foundation - Building for the future
Profile Interview - Professor Akbar Ahmed
Kith and Kin - A Father's Daughter
A Face to Faith - Getting spiritual in Syria
A Week in the life of Dawud Abdullah
Ahmed Ahmed - A double barrel of laughs
Health - The rise of obesity
Finance - Knowing the Language, a glossary of Islamic Finance terms
Food - Eid Dinner ideas
Gardening - Flowers in Winter
Travel Feature - Islam in Capetown, South Africa
Sport Feature - Whitechapel Wanderer
Music Feature - Mecca2Medina
Share this


Link to this
Printer Friendly