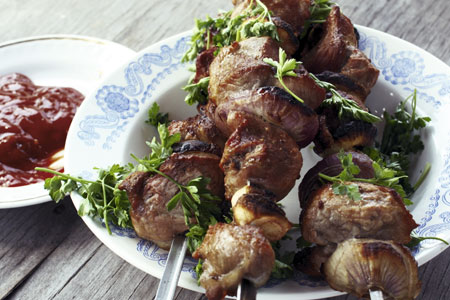 Lure of Lamb
Issue 86 November 2011
To commemorate Abraham's submission to God and his sacrifice, Eid al-Adha is celebrated the world over. Fatema Zehra brings you a selection of succulent lamb dishes to tantalise the taste buds.
Skewers of shish kebab

Ingredients
150ml pot natural yoghurt
1½ tbsp chopped mint
1 tbsp chopped fresh rosemary
1 tsp ground cumin
½ tsp red chilli powder
1 lemon, juice only
Salt and pepper to taste
300g diced lean lamb
½ small onion, cut into large chunks
Herbs to garnish

Method
Heat the grill to medium. Mix yoghurt with the mint, rosemary, cumin, chilli, lemon, salt and pepper. Pour this over the diced lamb. Mix thoroughly to coat. Cover and leave to marinate for at least one hour.
Thread the lamb onto four skewers, alternating with pieces of onion, then arrange on the wire rack of a grilling tray. Grill the kebabs for three to four minutes on each side, until the lamb is cooked through and the onion is beginning to brown.
If you are using wooden skewers, first soak them in water for five minutes to stop them from burning when they are placed under the grill.
Garnish with your favorite herbs, and serve straight away. Shish kebabs are delicious served with yoghurt sauce, salad and pitta bread.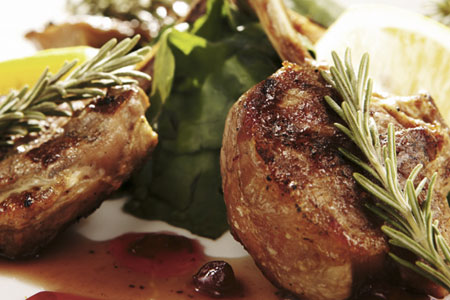 Spiced Lamb Chops

Ingredients
8 double-boned lamb chops
Juice of 1 lime
3 tbsp malt vinegar
1 tsp chilli powder
125ml mustard oil or vegetable oil, plus extra for frying
85g gram flour (chickpea flour)
4 star anise toasted in a hot pan
3 green chillies
8 garlic cloves
1 small papaya
For the mint sauce
3 handfuls of fresh coriander leaves
1 handful of fresh mint leaves
1 green chilli
1 small ripe mango, peeled and diced
½ tsp cumin seeds
½ tsp golden caster sugar
Juice of half a lemon
1 tbsp natural yoghurt

Method
Marinate the chops in the lime juice, vinegar, chilli powder and a pinch of salt while you get on with making the rest of the marinade.
Heat 100ml of the oil in a small saucepan and add the gram flour, stirring continuously for a minute or two until the flour forms a smooth sandy paste and you begin to smell a nutty aroma. Transfer the paste to a bowl and leave to cool.
Crush the star anise using a pestle and mortar, then tip into a food processor with the chillies, garlic, papaya and the remaining oil and blend to a smooth paste. Mix both pastes over the marinated meat and refrigerate for a minimum of four hours.
To cook the chops, preheat the oven to 180°C. Lift the chops out of the marinade and wipe off any excess so the chops are just lightly coated. Heat one tablespoon of oil in a large frying pan and fry the chops in batches for a couple of minutes on each side until browned. Transfer to a roasting tray and roast for 10-20 minutes depending on how pink you like your lamb.
For the mint sauce, place all the ingredients except the yogurt into a food processor and blitz until smooth. Pour into a bowl and stir in the yogurt. Season with salt and keep in the fridge until ready to use.
Serve the chops with mint sauce, salad and a garnish.
To read more mouth-watering recipes in our Food feature, as well as gain access to exclusive videos, plus behind the scenes footage and more interactive content, log on to http://digital.emel.com to get your digital issue today.
Share this


Link to this
Printer Friendly