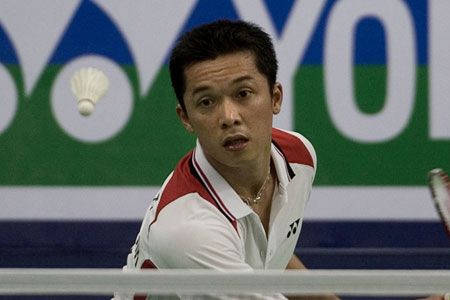 Remember the Name
Issue 86 November 2011
Everyone knows a sports star's name when they are at their peak. Ali Khimji speaks to Taufik Hidayat about how to make a mark when you are playing, and how to leave an impression when you retire.

Talent and temperament are often exhibited as two opposing forces in sport. A talented sportsman will be seen as someone with flair and technical ability, in contrast to those who play with temperament, who are rash in their approach. Once in a while, a sports star comes along who brings the perfect balance of the two; that raw hunger coupled with the ability to pull off the unthinkable.

Taufik Hidayat holds that title in badminton. Known for his immense skill on the court, Taufik is also able to make headlines for his fiery tantrums and outbursts during play too. His career took him from a village in Bandung to the top of the world rankings, bringing Olympic gold and worldwide recognition along the way.

Initially, Taufik was only interested in playing football growing up in Pengalengan, an area in the suburbs of Bandung, Indonesia. "I would be at the soccer fields straight after school, come rain or shine, and didn't go back home until we heard the call for maghrib prayers from the local mosque." Whilst his parents were keen for him to succeed in whatever he chose to do, it was when he was eight years old that his father sat him down and asked whether he was serious about sports. "He told me that football wouldn't get me anywhere in terms of international achievements or recognition as Indonesia wasn't known for it, but if I was able to bring my talent and determination to the badminton court, the opportunities would be endless."

Badminton is incredibly popular in Indonesia, and the country has won Olympic gold medals in the sport since its introduction in 1992; something that Taufik would later play a role in. Makeshift courts were set up around towns and villages, and it was here that Taufik first learned the skills of his trade. "I first played with my local village team, and we competed against neighbouring villages. As time went by, my passion for the sport grew."

Taufik then joined a badminton club which was a two and a half hours drive away from his home. At times, his father would stop halfway and make Taufik walk or run the rest of the way. He was angry at first, but appreciates the effect of his father's disciplinarian attitude: "it moulded me into the person who I am today, who never gives up and always aims for the best."

His hard work and determination paid off when he was invited to join the national squad at the age of 16. Two years later, he made it to the final of the All England tournament; a tournament which is as prestigious to badminton, as Wimbledon is to tennis. However, Taufik lost this match and accepts that this was his "first big defeat" and like many of the successful sportsmen of our time, was able to bounce back to victory. In the following year, he won the Indonesia Open, Southeast Asian Games, and the Malaysia Open. He reached the final of the All England once more, but again lost to strong opposition.

Taufik went on to participate at the highest levels of badminton; the Sydney Olympic Games in 2000, and the World Badminton Championships in 2001. Unfortunately, he only reached the quarter-finals of the Olympics, and made it to the semi-finals in the World Championships but had to retire with an injury. Over subsequent years, Taufik won a number of regional tournaments, such as the Singapore Open, the Asian Games, the Badminton Asia Championships, and the Indonesia Open, the last of which he has won six times during his career. Spectators of the sport could see his talent, but something prevented him from really performing at the elite tournaments. But this was all set to change at the 2004 Athens Olympic Games.

"I came into the tournament as a dark horse; no one really expected me to win." Taufik took gold in the tournament, winning 15-8, 15-7, despite a slow start. "Truthfully, I can only remember bits and pieces of the moment when I won, as everything was a blur of exhilarating emotions, but nonetheless I know it was a happy blur." A year later, Taufik won the 2005 World Championships. "It was different this time, because all eyes were on me. Thankfully, I rose to the occasion and went home with the gold medal." To this day, Taufik remains the only player to win both titles back-to-back.

However, Taufik has had skirmishes with controversy during his career. He continuously threatened to leave the national team, initially because his mentor Mulyo Handoyo was excluded from the coaching list. There was another incident when he threw a plastic bottle at a member of the crowd, after unsavoury comments were shouted from the audience; "naturally, the things I heard angered me, but I admit that I went overboard with my response." Taufik also walked off the court once in a match against Lin Dan, the then number one seed, after a number of decisions were made against him; "if I don't feel something is right, I will pursue it to the end of the earth in order to correct it."
Nevertheless, he has made a name for himself as an outstanding player on the court. Syed Mohammad Arif, the former Indonesian national coach, once said of Taufik: "He can play any stroke. He weaves the racquet like a wand. He can pick any shot from any angle and make it look easy." Former All England champion Pullela Gopi Chand describes him as "a trapeze artist on court."

Although he has formally quit the national team, he still participates in tournaments under his own management. Representing Indonesia, to him, is a "positive burden", but one that he is "entirely grateful to have taken on."
"The fact that only our athletes and presidents can have the privilege of their flag flying and anthem playing in foreign countries, has helped me recognise the immense faith that the country has given to us athletes—I am forever humbled by it."

For now, Taufik's mind is preoccupied with setting up the Taufik Hidayat Arena; a multi-faceted sports centre that will encourage Indonesian children to take up badminton, and provide them with state-of-the-art facilities, which they can use for free. "Until a few years ago, Indonesians would drop everything to watch the matches. But now, it pains me to not see that same enthusiasm amongst the kids."

"Badminton has made me the Taufik Hidayat I am today; it is the reason I am blessed with fame and fortune. It has been my dream to open an academy, in adherence with my own sporting philosophy, where badminton enthusiasts can gather and form a community."

With the Arena, Taufik Hidayat stands to leave a legacy that will hopefully rejuvenate interest in badminton around Indonesia. Too often we see retired sports stars disappearing into the ether; occasionally popping up in newspaper scandals. Here, Taufik has the opportunity to be remembered for the very thing that made him memorable in the first place. And as badminton has always been controlled and managed by the government, this is truly revolutionary and innovative in its approach; something that Taufik has always exhibited in his badminton. For now, sports personalities the world over should take heed; this is how to make a name for yourself in the game.
Share this


Link to this
Printer Friendly