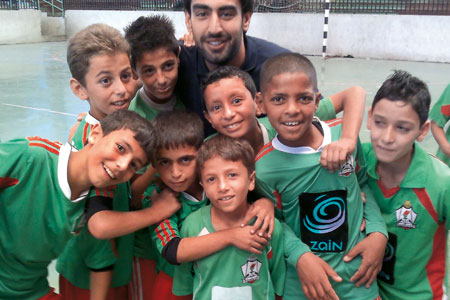 Football Beyond Borders
Issue 87 December 2011
Sport has the ability to bring communities together who otherwise would not know each other. Ali Khimji meets a group of London students who played football in Palestine.
Football; the beautiful game and the universal language. This sport, above others, is often painted as one that can extend beyond its physical requirements to the mental realm, and has the ability to forge connections between communities. Indeed, it sometimes seems that the FIFA World Cup is the only global event where countries come together to participate on level playing fields; presenting the opportunity for superpowers to be upset by smaller nations, previously unheard of.

This invaluable ability of football has been taken to the grassroots level on many an occasion, with tournaments springing up across cities to bring together communities, who otherwise would live side-by-side but have no positive interaction with one another. For a group of SOAS students, however, this wasn't enough. They decided to take their love of the beautiful game to an international level, using it "as a medium to connect between two different cultures, which would be more effective than at the high-end level that we've seen over the years."

The initiative is the brainchild of Jasper Kain, captain of the SOAS 1st Football Team, who wanted to take his team to Iran and play against local teams there. He sought "an alternative narrative to the prevailing one at the time, which sensationalised and alienated Iran and Iranians as the 'Other'; a dangerous and opposite society of extremists and fundamentalists, whose members hated Britain, democracy, and all that we supposedly hold dear."

Unfortunately, the team were unable to go to Iran that year, as their visa applications were rejected in the aftermath of the disputed 2009 elections. But this didn't hold them back from their goal—they decided to embark on a 28 day tour to Turkey, Syria and Lebanon, playing against Turks, Kurds, Armenians, Syrians, Iraqis, and Palestinians along the way. "The project began to develop whilst the team was out there," says Omar Salha, one of the organisers behind Football Beyond Borders. "A lot of the matches were followed by socials between the teams, where we would effectively have round table discussions. A lot of understanding developed between the different cultures and friendships were formed, all through football." The following year, Football Beyond Borders decided to tour West Africa and visit Nigeria and Ghana, with their trip following the same format, but also incorporating inter-cultural workshops for children.

Earlier this year, the students made a bold decision to visit the West Bank, Gaza, Jordan and Egypt. "With most of us having studied about Palestine and with the issue close to many of our hearts, we felt it was important to show our solidarity with the Palestinians, and to have a better understanding of the region, away from the mainstream media," says Omar. The first leg of the tour was in Egypt, where the students worked with Coptic and Muslim orphans, and used football to bring them together. "We were a very diverse squad; we spoke 10 different languages between us, and amongst ourselves had musicians, artists and academics to name a few. We wanted to bring this all together, and run educational workshops to engage with the kids out there."

In Palestine, they continued to link up with organisations on the ground; staying in a refugee camp in Nablus, visiting different cultural centres, and playing against local teams. "Initially, I would have thought it would have been one of the worst experiences to stay in a refugee camp," says Omar. "But I was struck by how strong-minded some of the people there were, and they were still going about their everyday lives, despite the fear that people could turn up at any point to take over. The kids would tell us that when they were playing football and the IDF turned up, they would just carry on playing—we were quite taken back about how they'd adapted to life."

For one of the team's matches, they played against a local village team in Fakher in the West Bank. "We played on a clay pitch and the whole village turned up to watch us," says Omar. "It felt like a cup final, and we had a huge ceremony beforehand with the local media present, and kids running around asking us if we'd played with Cristiano Ronaldo. We had them all cheering us on during the match. It was a truly humbling experience."

They also played against the Al-Quds team at the Palestinian national stadium. "We felt extremely privileged to play there," says Omar. "When we were playing, we forgot for a moment that this was a country under Occupation. But when we left the stadium and had walked for a few minutes, we saw the Wall and the reality struck home."

The team went on to play against teams in Jordan, including the youth team of Al-Wahdad FC, that was set up in a Palestinian refugee camp in Jordan. Omar and the rest of the team felt that Al-Wahdad FC were the embodiment of what Football Beyond Borders was trying to achieve; "Even though they are a team in Jordan, they are a gateway for Palestinian solidarity there."

Football is more than just a test of skill and physical prowess to the Football Beyond Borders team. For Omar, it is "challenging, competitive, and a test of patience. Within your parameters on the field, you are free to express yourself. It's a good test of character, and of how you react to certain situations. If you were to mix all these qualities up, you'd get football, but it's true of any other sport."

The success of Football Beyond Borders, and the lasting effect that it has had on all those involved is testament to the underlying nature of sport; its ability to transcend the court or pitch and turn an opponent into a friend, someone who you can empathise dearly with. And whilst attempts to resolve the Israel-Palestine conflict play through in the diplomatic arena, we should all put our efforts behind initiatives like Football Beyond Borders, that allow us to connect with human stories on the ground.
Share this


Link to this
Printer Friendly