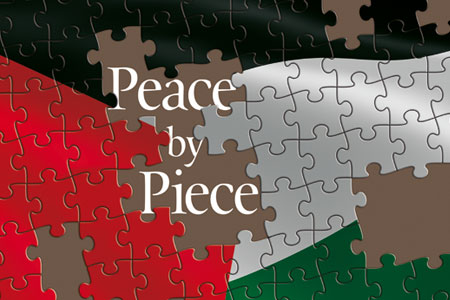 Peace by Piece
Issue 87 December 2011
As Palestinians stake their claim for freedom and self-determination, emel talks to people on the ground who are engaged in building the foundations of civil society.

Hani Hassan
Architect, Ramallah
I completed my Masters with a particular specialisation in environmental architecture. I originally founded my firm in 1985 in Columbia, South America, but returned to Palestine in 1998 to teach and to design. There is a great need to train young architects and to construct high quality buildings for the betterment of Palestine.

It is not easy being an architect here. This is a closed country. The resources I need to import come through Israeli ports. In many instances, these imports are delayed. If we had Palestinian ports, many projects would be completed quicker. Building permissions are difficult, and there is also a need for the development of new codes and regulations regarding construction in Palestine, as the current ones are incredibly old.

Despite these challenges, I am proud of Palestinian design, especially two projects. One is a desert house in Jericho. I won an International Architecture Award in 2010 for the house. Read More

Dr. Kamal Okasha
Clinical Director
St John Eye Clinic, Gaza
I trained abroad and could have continued living outside, but returned to Gaza because our people desperately need the unique ophthalmologist services and speciality that we have. There is a lot of 'brain drain' out of Palestine because of the Occupation. There are few job opportunities, and the continuing siege means the Palestinian territories are dismembered.

There are many problematic eye conditions. Cataracts are regularly seen in this hospital, but so too is eye trauma caused by Israeli attacks as they continue using live bullets and rockets. We have about 2,000 patients at the clinic per month, and there are only three doctors to treat them all. The siege means there is a constant shortage, and supplies may come at any time, then again they may not arrive at all. Getting patients to St John's Eye Hospital in Jerusalem is very complicated, and takes at least three hours, when it is only 30 minutes away. The siege of Gaza, the checkpoints everywhere, and the mass of documentation needed for any co-operation with the Israeli occupation makes even small tasks impossible. Read More
Naila Ayesh
Women's Activist, gaza
In 1991, myself and a group of professional women set up the Women's Affairs Training and Research Center (WAC) to promote women's rights and gender equality within Palestinian society, specifically in Gaza. There are some very pressing issues facing women in Gaza at this moment in time. For example, if a wife loses her husband in conflict, the husband's brother would marry the widow. If she doesn't agree, she is thrown out of the house and her children are taken—she is treated like a piece of furniture. A recent report highlighted that women's wages are still two-thirds that of men's in similar positions, and that almost half of all women will be subjected to psychological violence at some point in their lives. Read More
Get your digital copy of emel today. With exclusive videos, behind the scenes footage, animation, and much more, the digital edition is the perfect way to read your favourite magazine whenever and wherever you want. Get your digital edition now!
Share this


Link to this
Printer Friendly