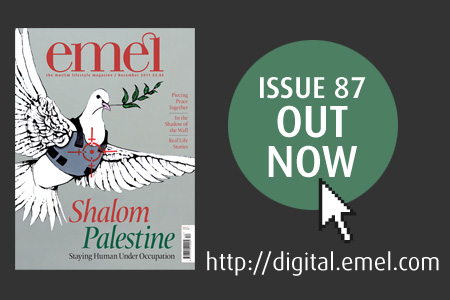 December Issue Out Now
Issue 87 December 2011
The December issue of emel is themed around Palestine and its people.
We bring you personal stories of hope and courage, strength and fortitude, determination and resilience under Occupation. You can read first-hand accounts of every-day life in Palestine from teachers and architects, doctors and professors, activists and lawyers. There is also a fantastic interview with comedian Mark Thomas who walked the whole separation Wall. Get this special issue of emel for a truly inspiring read.
Get your digital copy of emel today. With exclusive videos, behind the scenes footage, animation, and much more, the digital edition is the perfect way to read your favourite magazine whenever and wherever you want. Get your digital edition now!
Share this


Link to this
Printer Friendly