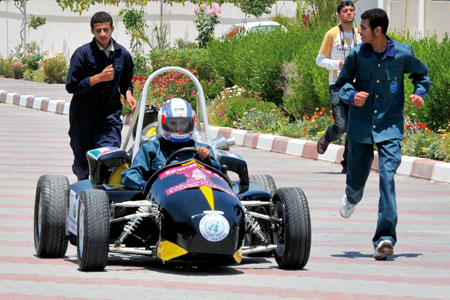 Engineered Ingenuity
Issue 87 December 2011
In an inspirational tale, Ali Khimji talks to a team of Palestinian students who built a race car from scratch that went from Gaza to Silverstone.

There is no doubt that living under an occupation forces people to think in ingenious and creative ways to acquire their basic necessities and maintain their lifestyle. But one group of individuals in the Gaza Strip decided to take their ingenious thinking methods to the next level and develop a racing car, completely from scratch.

The team of Palestinian engineering students from the Khan Younis Training College embarked on the ambitious project, under the tutelage of Dr Ghassan Abu-Orf, the dean of the KYTC. The college was set up by the UNRWA to help young people in Gaza pick up technical skills to help boost the local economy.

Dr Ghassan first heard about the competition whilst he was teaching at the University of Sunderland, and believed this opportunity would be ideal for the Gazan students. "Our first obstacle was fundraising. Gaza was under blockade at the time, and there is no car industry or even interest in it—we literally started with nothing," says Abeer, one of the students on the project. "The fundraising took a year, and we had nine girls working solely on that front." In total, the team raised $70,000 for the project from donors ranging from the Bank of Palestine and Paltel, the telecommunications company.

Once the team had made the plans for the car and identified the necessary parts they needed, they set about contacting various suppliers around the world to see where they could be acquired from. After many companies turned them down, the students found an Italian company that was willing to work with them. But even after the parts were sent, the Israeli authorities refused to let them enter the Gaza Strip. "We didn't give up," says Adam, another member of the team. "As Palestinians, we look for plan B all the time."

The students turned to old cars and machines around the locality and recycled many of their parts. The engine came from a used Honda motorcycle, and the chassis was made from domestic hot water pipes. "Unfortunately we didn't have the tools, machines and parts necessary to give us the best possible results—technology in Gaza is still quite primitive and out of date in comparison with international standards," says Adam. "But our mission was different, and remains different."

The car took one year to build, and the first time that it was taken for a test drive was an emotional experience for everyone involved. Read More
Share this


Link to this
Printer Friendly