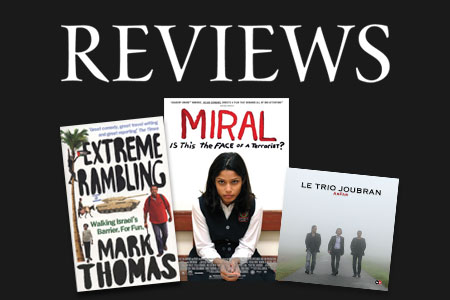 Reviews
Issue 87 December 2011
FILM
MIRAL
Review by Sam Blan
While attending the Los Angeles premiere of Miral, I was struck by a moment of perspicuity. Here in the room, we are finally seeing more and more Arabs and Jews together sharing ideas and bringing about a social consciousness that has evaded the hoi polloi for quite some time. After a compendious introduction by the great Javier Bardem, the premiere began amongst actors, crew, journalists and noted individuals. While the tale has been met by mixed reviews, it is important to note that Julian Schnabel (the director) who is Jewish, and Rula Jabreal (writer of the screenplay and novel) who is Palestinian, started a romantic relationship as a result. Their courage is to be commended.

Miral is a story spanning over 60 years in the Israeli-Palestinian conflict; the story begins with Hind Husseini (played by Hiam Abbass) and her decision to open a school for children in Jerusalem in 1948 following the Deir Yassin massacre. After some years, Hind's friend Jamal (Alexander Siddig) brings his daughter Miral to the school. She grows into a young woman (Freida Pinto), torn between the violent mindset of her political activist boyfriend (Omar Metwally) and the more peaceful path of academia. Two other storylines involve Nadia (Yasmine al Massri), Miral's mother, and Fatima (Ruba Blal), a freedom fighter. Read More
Music

Le Trio Joubran
Review by
Mohammed Latif
A Palestinian fraternity, Le Trio Joubran have been a refreshing presence in the world of the oud. Their music is a product of three ouds and some percussion, foregoing any vocals. It is easy to place Le Trio Joubran with other oud contemporaries such as Naseer Shamma, but their performances as a group give a different, deeper dimension to their music.
As their name suggests, the brothers founded and developed a fan base in France. It is unsurprising that they are more popular in the West, where there has been a growing interest in Middle-Eastern music such as that of Souad Massi. Samir invited his two younger brothers Wassim and Adnan to join him in France after his success as a solo artist. The birth of Le Trio Joubran was marked through the release of the album Randana in 2005.
Their repertoire is entirely instrumental, so it is more likely to expect Le Trio Joubran to feature as background music in a café rather than on the radio waves. This doesn't do them any justice as their music is rich, stimulating and should be appreciated as solid classical compositions. Read More.    
Book
Extreme rambling by mark thomas
Review by Sarah Joseph
I read Extreme Ramblings on a flight to America. It was probably not the best book to read in a confined space or in public. One minute I was laughing, the next crying, and the next exclaiming loudly. Purchased at Heathrow, the book was finished well before I touched down in Washington. It grips the reader with its narrative, but it is not a book for the faint hearted. In fact, it is an emotional rollercoaster.

Mark Thomas is a comedian. He is also that strange British phenomenon—a rambler. With his Kendal Mint Cake, trench foot, and a sense of entitlement to walk wherever he darn well wants, he decides to walk the length of The Wall. Not any old wall of course, but the one in Israel and Palestine. He is interested in the politics, the conflict, the people, and of finding "a really good walk". Given that his idea of a perfect walk is "losing yourself in a sense of freedom," the Wall does not seem an obvious location, but this is Thomas' ramble.
Thomas plays up the bumbling Englishman abroad rather well, although the book is far from naive. He introduces the reader to the landscape, both political and geographic, and also to colourful characters on both sides of the Wall. We meet with mayors, architects, teachers, soldiers, children and many others subjected to Thomas' acerbic wit. He interweaves these characterisations with bizarre and sometimes mind boggling facts, such as that in Palestine they have three statistics for childbirth: home births, hospital births and births at checkpoints!

The fact that you find yourself laughing out loud despite the subject matter is testament to Thomas' dark humour. Read More
Get your digital copy of emel today. With exclusive videos, behind the scenes footage, animation, and much more, the digital edition is the perfect way to read your favourite magazine whenever and wherever you want. Get your digital edition now!
Share this


Link to this
Printer Friendly