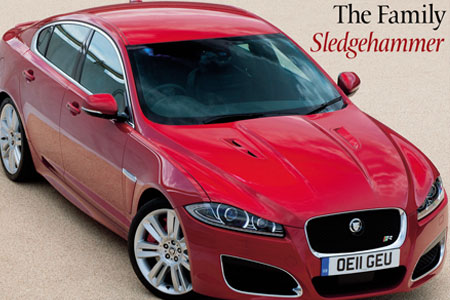 The Family Sledgehammer
Issue 89 February 2012
Take one humble family saloon, add a dash of sports car style and a brute of an engine, and Fazeel Ashraf finds you have a startling, yet subtle car.

If I'm being totally honest, before I was handed the keys, I wasn't expecting much from the XFR. Jaguar has launched some cracking cars recently and while the standard XF is a very accomplished vehicle it didn't exactly excite me, so I was hoping this was more than just an engine swap out.
The XFR is a saloon that will seat the whole family. It will hold your golf clubs. You can drive it to the shop around the corner to get some milk or samosas. I'm know I'm not exactly selling it, but don't turn over the page just yet.
The XF has been subtly altered so that most people will have trouble spotting the difference, yet Jaguar has endowed their already successful humble family saloon with supercar performance by the not so simple task of fitting a brute of an engine under the bonnet.
Instead of all the fanfare that comes attached to performance cars, the fl ourish surrounding the XFR is distinctly low key, ushered in with only a few visual indicators; rear quad tail pipes, revised bonnet and the all-important 'R' badge discreetly tacked on.
The XFR's interior is a mirror of the exterior, sporting a raft of subtle but effective XFR cues. Multi adjustable sports seats without looking like they belong in a racing car, new sill panels and aluminium trim. With these alterations the interior is a striking place to spend your time in. Press the starter button and the round gear selector rises from the centre console while at the same time air vents rotate in harmony to their open position. All the buttons and instruments are set against a backdrop of calming pale blue light and at night it manages to glow in all its splendour. The XFR manages to create an appearance of elegance while still incorporating all the latest gadgets and gizmos, and without making it look like something from the Starship Enterprise.
Share this


Link to this
Printer Friendly