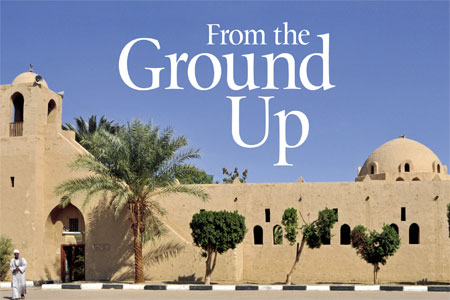 From the Ground Up
Issue 89 February 2012
In an age where architecture is symbolised by grandiose buildings, one Egyptian architect wanted to shape his own mould. Saeed Moinie looks at one of his most well-known endeavours.
Hassan Fathy was born in Egypt in 1900. After graduating in architecture, he went on to be involved in over 150 works, ranging from public buildings to modern country retreats. However, it was his architectural philosophy that has stood firmer than any of his buildings will.
Fathy pioneered the use of natural materials in architecture and had strong convictions that man had lost his ability to create following the Industrial Revolution. In a paper titled Architecture and Environment, he wrote, "Energy-intensive mechanised tools have diminished man's personal, cellular contribution to the fabrication of objects, the building of structures, and the growing of food. The lesser the challenge for man to imprint his genius, the less artistic is the product."
He goes on to lament at how societies that focus on enhancing their industry are weakening the craft developed cultures that they have built up over thousands of years, which are grounded in a local knowledge and specifically catered to live in harmony with the environment. But he notes that the architect is in a unique position to counteract this paradigm shift, and that if architects were to embrace local forms and use them in their own work, then people would begin to look at these local forms with a sense of pride, because of the architects' high regard in society.
This philosophy of Fathy was being realised within himself at a time when many of the architects and designers around the Middle East were looking to the West for new ideas and solutions to issues facing their society. His own architectural school of thought was based on Nubian architecture, which advocated the use of mud bricks in buildings.
The project where his values and ideals most shine through was when he was asked in 1945 to design and construct a new settlement for the previous inhabitants of Gourna in Luxor, Egypt. The villagers had to be moved due to the proximity of their houses to heritage sites and the government wanted to develop the tourism industry around the area.
His plan for New Gourna, as it was to be called, was for the houses to be built from mud bricks and to be built by the inhabitants themselves, which made it the most cost-effective solution to the issue at hand. He wanted the villagers to become self-sufficient, just as their forefathers had been, and live in surroundings that held the mark of their own creation.
Share this


Link to this
Printer Friendly