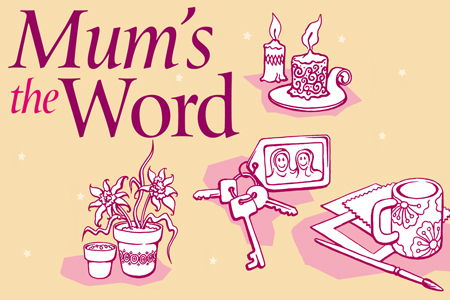 Mum's the Word
Issue 90 March 2012
"Be careful of your duty toward God in whose name you demand your rights, and toward the wombs (that bore you)." Qur'an 4:1 Whilst Mother's Day has become increasingly commercialised, we should never be put off caring for and acknowledging our mothers. Nor should lack of money stand in the way of appreciation and gratitude, for it is often the gift of time that is most appreciated, and beautiful to give.
Say it with flowers

Flowers are a traditional Mother's Day gift that never seem to last long enough. Opt for a gift that keeps giving throughout the year by buying a potted plant or even by planting some seeds. Make it extra special by choosing a beautiful vintage pot that will make sure your mother has a gift like no one else.
Mother Nature

The beeswax candle offers a sweet smelling, warm light. There are various ways to go about giving this gift. You can make it yourself by ordering bees wax from craft stores or your local bee keeper—have a quick search online to find your nearest one. Alternatively you can buy readymade honey and wax candles from specialist websites online. Make the honey extra special by infusing it with herbs and spices. Two lovely combinations include chamomile and vanilla.
Day of indulgence

Who wouldn't appreciate a bit of pampering, and who deserves it more? Give your mum a gift of blissful moments, from a few short treatments like a lunchtime facial to a whole day of indulgence. There are various women's only spas and beauty salons to choose from. Or if a spa is out of your budget, then buy some aromatherapy massage oils and massage her feet yourself. Remember Paradise lies at her feet.
Share this


Link to this
Printer Friendly