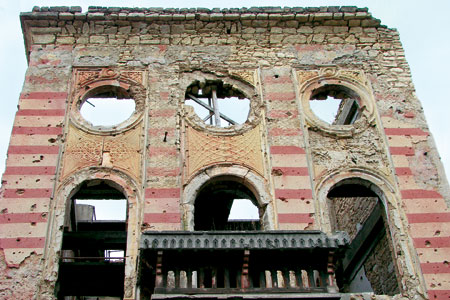 Bosnia 20 Years On
Issue 91 April 2012
We have all heard about the war in Bosnia and Herzegovina it seems, but for many it is just a part of history. Sejad Mekic´ explains what happened and its implications today.
An Overview of the Bosnian War
Bosnia and Herzegovina was once a part of former Yugoslavia. It was a southern European land of rivers and mountains to which holidaymakers would return time and again to bask in the Mediterranean sunshine. Then came 1992, and three years of brutal inter-ethnic fighting ripped the country apart. The conflict between Bosnian Muslims, Croats and Serbs had its roots in the fear of Serb expansionism and dominance. On 29th February 1992, the multi-ethnic Republic of Bosnia and Herzegovina passed a referendum for secession from Yugoslavia. Independence was declared on 5th March 1992 by the parliament. The government of the new Republic was led by Bosnian Muslim President Alija Izetbegovic´. Following the declaration of independence, Bosnian Serb forces, supported by the Serbian government of Slobodan Miloševic´ and the Yugoslav People's Army (JNA) attacked the Republic of Bosnia and Herzegovina.
The Bosnian War (1st April 1992 to 14th December 1995) was characterised by bitter fighting, indiscriminate shelling of cities and towns, ethnic cleansing, systematic mass rape and genocide, mostly led by the Serb forces but Croats also. Events such as the Siege of Sarajevo and the Srebrenica massacre would become iconic. In light of the outbreak of fighting in the country, the UN Security Council imposed an arms embargo on all of former Yugoslavia, which hurt the Army of Bosnia the most because Serbia inherited the lion's share of the former JNA arsenal, whereas the Croatian army could smuggle weapons through its coast. The Bosnian government headed by Izetbegovic´ lobbied to have the embargo lifted but that was opposed by the United Kingdom, France and Russia. As the war went on, the involvement of the USA became more and more central. The best proof of this is the Dayton Peace Agreement, officially signed on 14th December 1995 in Paris, which ended the war in Bosnia and Herzegovina. The Agreement envisaged an end to the bloodshed between the three ethnic groups and assisted in implementing the peace settlement, which is being maintained to this day through the international community and its peacekeeping forces.
Share this


Link to this
Printer Friendly