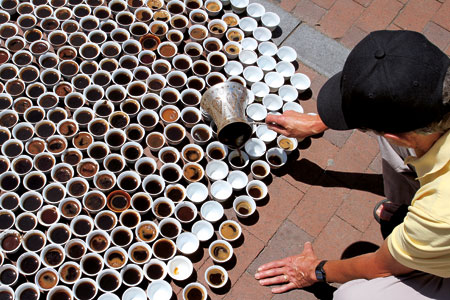 Where Were You?
Issue 91 April 2012
Art often serves as a reaction to major events. Ali Khimji meets an artist who uses cups of coffee to remember those who were systematically executed in Srebrenica.
It is said that the tradition of serving and sharing cups of coffees with visitors has been passed down from the Bedouins of Arabia. We see it all the time in the west in a consumer sense, but it has managed to retain its traditional meaning in Bosnia. People would almost never drink coffee by themselves in Bosnia, and even if they were by themselves at home, they would prepare enough coffee and keep an extra cup waiting for someone to turn up unexpectedly. This deep-rooted ritual is an integral part of Bosnian culture that Aida Sehovic chose as the theme for her art installation in remembrance of those Bosnians who were executed in the Srebrenica massacre of 1995.
Her art installation has appeared around the world every year since 2004 on 11th July, the anniversary of the Srebrenica genocide. It consists of thousands of small porcelain coffee cups, which were collected from Bosnian families around the world, but it is a monument that is dependent on public participation. People are invited to place a cup on the ground and fill it with Bosnian coffee throughout the day, and Aida believes this "shared ritual allows for constant re-creation, re-interpretation, and re-production of personal and public memory." The installation was first hosted in Sarajevo in 2004 with 1,327 cups, corresponding to the number of victims that had been identified and re-buried. This grew to 1,705 the next year, and Aida says she now has over 4,000 cups which travel with her everywhere she goes.
Artists normally speak of the inspiration behind their work, but Aida sees it as "more a sense of responsibility and urgency to react to this horrific atrocity, both as a Bosnian and as an artist." Over the years, she has met many women from Srebrenica who lost every single male member of their family, their husbands, sons, fathers, brothers, uncles and cousins, and she has been left wondering how they find the strength to live and go on after such a loss. "When I was trying to imagine what the families from Srebrenica must be going through, I kept thinking about this famous Bosnian song in my head. It's an old, beautiful song called 'Sto te nema?', which translates into English as both 'Where are you?' and 'Why are you not here?'"
Aida was born and raised in Banja Luka, a city in the north-western part of Bosnia, but like many Muslim families in her locality, she was forced to leave during the ethnic cleansing of the early 1990s. From Bosnia, she went with her mother and sisters to Turkey where they lived for a year in different areas of the country. She then moved to Berlin, where they were reunited with Aida's father who had been stuck in Bosnia until then. They could not return home, so decided to move to America after Aida finished high school. Moving so frequently has had a profound effect on Aida's grasp of identity in a modern context. "I find the word 'identity' very problematic because it reduces people to simple categories, and we are more complex than that," she says. "We were persecuted in our hometown for being Muslim, but in Turkey we were judged for not being Muslim enough. Now I feel comfortable and confident with all of it, being Bosnian, Muslim, American, an artist, a woman. But I also understand that I can choose and decide how to be all of these 'identities'."
Read more.
Share this


Link to this
Printer Friendly