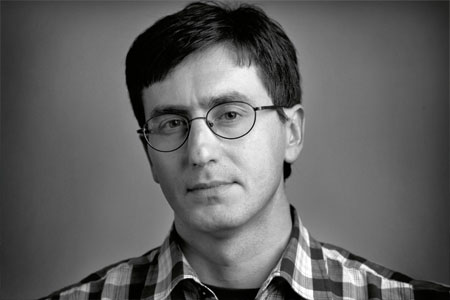 The Fight for Truth and Justice
Issue 91 April 2012
His family was murdered in the Srebrenica massacre, whilst under the 'protection' of Dutch soldiers. But Hasan Nuhanovic´ fought for justice, and has set a legal precedent by forcing The Netherlands to admit responsibility for what happened.
I grew up in a small town in eastern Bosnia. We were about 7,000 inhabitants, mostly Muslims but ethnically mixed and we got on well. When the war broke out, there was no United Nations presence in eastern Bosnia for the first 12 months. They had been deployed in Sarajevo and other locations. We were forgotten, isolated, and besieged. The Serbs carried out their ethnic cleansing and we were in a terrible situation for that first year. We had no food, no electricity, no running water, and no money. And with refugees fleeing from other parts of Bosnia, our population increased to 100,000.
At the end of the summer in 1992, aged 24, I ended up in Srebrenica, together with my parents and my brother, having fled our hometown with just a few bags of possession. We went there because Srebrenica was the only territory that was still being defended by Bosnian Muslims. There were many abandoned houses in the area, some had been burnt down and others were destroyed, but my family and I found one that we could live in. As the months went by, thousands more refugees flocked into Srebrenica, and another two families moved into our house. We had no electricity or running water because the supply had been blown up the Serbs. We received one single convoy of humanitarian aid from the UNHCR in the first 12 months of the war, but it was only a 3kg package that was meant to last us 12 months. Only in April 1993 did the UN send the first batch of peacekeepers, who were Canadian, to our region and we started receiving regular food packages.
I became an official UN language assistant, helping to translate for the peacekeepers, and that was my status until July 1995 when the Serbs launched their final military attack on the area. At this point, the Canadian peacekeepers had been replaced by 600 Dutch soldiers. But when the Serbs moved into the Srebrenica area and occupied the town, the UN did nothing to stop the attack. They first promised air strikes, but that did not happen. Then NATO was supposed to bomb the Serb strongholds, but that did not happen either. Not only did they fail to protect the area, but they made it easier for the Serbs to carry out their execution of about 8,500 men and boys.
Cheap Bags https://www.yohoman.com/Bags/
Share this


Link to this
Printer Friendly