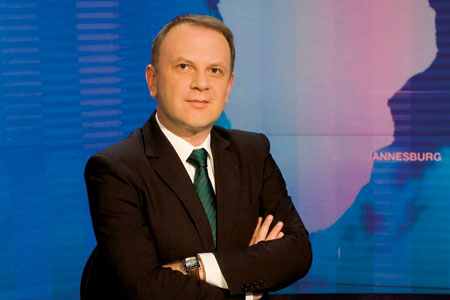 A Week in the Life of Adnan Rondic´
Issue 91 April 2012
Starting out as a medical student, Adnan never expected to end up working for one of the biggest television stations in Bosnia. Now he tells the stories which matter to everyday Bosnians.
My week seems to be framed around discussions. I will discuss programme ideas with my colleagues. When I have guests on my show, we will discuss the latest news related to Bosnia, and in my spare time I like to discuss life with my friends and family over coffee. In my role as a presenter for Al Jazeera Balkans, I appear on the main news show, as well as a supplementary programme called Kontekst, and the one-on-one interview show, Talk to Al Jazeera.
I never expected to end up working in journalism. I was studying medicine at university when I came across communication and journalism, and started thinking about it as a career. I switched my course, and later joined Hayat TV in February 1992 as a presenter, one and a half months before the war broke out. I stayed in Sarajevo throughout the war, leaving Hayat TV for a few months to join the information department of the Bosnian Army. When I think back to that period, I experience mixed emotions. It was a siege of the city, without food, water and electricity, with constant bombing, and death surrounding us on all sides. I lost 28 members of my family, civilians and soldiers, including my father who was in the Bosnian Army. But at the same time, I remember the citizens of Sarajevo who opened their arms to one another, ready to help anyone, and who exerted their resistance through music, art, spirituality, by going back to real and traditional values, and by embracing the multicultural and multi-religious customs of Bosnia that have existed as long as we can remember.
Read more.
Share this


Link to this
Printer Friendly