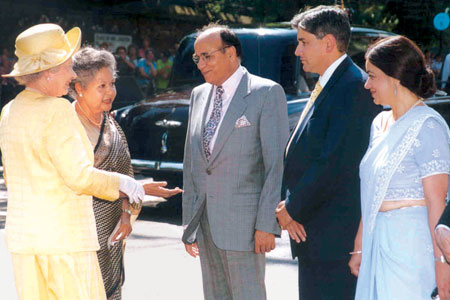 The Best Way to Success
Issue 92 May 2012
Coming from Pakistan to look for work, Sir Anwar Pervez founded the Bestway Group. He built the business from a single convenience store to the second largest cash and carry operator in the UK, with an annual turnover in excess of £2 billion.

I grew up in a small village near Rawalpindi, where there were no local schools. As a child, I had to walk four miles to get to primary and middle school, along with the rest of the village. When I came of age for high school, the closest one was 38 miles away in Jhelum, so I had to live away from home during my studies. After finishing high school, I came to the UK in 1956 at the age of 21, in search of better opportunities.

I was very happy to be in Britain, and immediately launched myself into the working world. I had a series of jobs, including working as a bus conductor in Bradford. In 1963, I opened my first convenience store in Earl's Court, London. I set up my business just to earn a living, but I realised that I was actually providing a service for a special community. I was the second person in the West End to sell halal products, and as I opened more stores, I became the first person to sell halal goods in Wimbledon, Hounslow, and Ealing.

I was working hard to maintain several stores across London, and I believe that my initial success was down to focussing on one business and ensuring that what customers wanted was always available. In addition, many of the larger convenience stores were only open five days a week, for a few hours each day. I challenged this by keeping our stores open seven days a week till late, which did cost me some fines and penalties, but also brought me unprecedented success. Soon after, the authorities began to turn a blind eye as they realised that I was meeting an unsatisfied, legitimate demand.

I continued to open new stores around West London, moving to several high street locations. In the beginning, I was only catering for minorities, but I began to stock products aimed at the mainstream market. This paid off as business began to boom in the early 70s.

Convenience stores are heavily dependent on wholesalers for their products, and as such, wholesalers were able to dictate the prices charged to local customers. In the early 70s, their mark-up was around 10% and this was carried through to the customers, which meant that no goodwill could be built between shopkeeper and customer. I had personal experiences of customers complaining that our prices were too high, but there was nothing I could do at the time.
Share this


Link to this
Printer Friendly