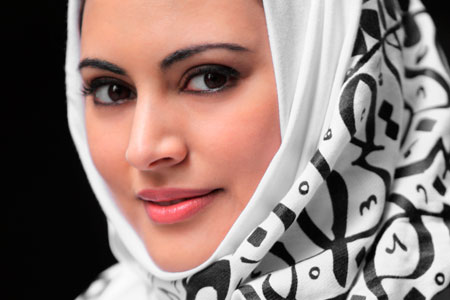 In the Kingdom of AbuSulayman
Issue 93 June 2012
In the eyes of the western world, a Saudi woman is a helpless creature. Enslaved inside her home, unable to drive, sheathed in black from head-to-toe, she epitomises the antithesis of western feminism. But behind such sneering media stereotypes and vulgar prejudice, there are women like Muna AbuSulayman who have a genuine concern for their society and are engaged in reform. Ali Khimji caught up with her on a recent visit to London.

She has been dubbed the Oprah of the Middle East, but Muna AbuSulayman flatly rejects the comparison. "Oprah is a phenomenon! People who don't even speak English watch her!" But looking at the list of Muna's achievements, it is clear why people make the association. With a career spanning TV, philanthropy, fashion, development, gender empowerment and education­­­­­—and all that before she has reached 40—Muna is somewhat of a global phenomenon in her own right. Having graced the stage of some of the most prestigious global meet-ups—the United Nations, the World Economic Forum, Davos —she certainly crashes through the stereotypes of Saudi Arabian women as subservient wallflowers.

The daughter of renowned Islamic scholar, Dr. Abdulhamid AbuSulayman, Muna recognises her father's influence in shaping her personality. "My father was so inspirational because he had internalised his faith in to his everyday life; he had a logical and progressive outlook." She admits to asking difficult questions about faith when growing up, but "never had a spiritual emptiness. Rather, I always felt God was with me. My friends would do things and try to justify them by saying, 'We only have one life,' but I would always retort, 'No, we have two —this life and the one to come'." She feels this attitude helped her navigate the decision-making process. "Knowing the world is transitory means you don't stress so much about worldly success."
Which might explain why Muna is incredibly successful in a worldly way; she was certainly encouraged to aim high. "I remember getting four As and one B in college. I had a young baby at the time. My Uncle was applauding me, and saying 'Wow! You have a baby and you got four As'. My Dad asked why I got the B." Although there was no pressure to be a doctor, or a lawyer, or an engineer, Muna describes an unspoken expectation, which "translated to high self-expectation—too high."

Her upbringing stood her in good stead however for taking on the role of founding Secretary-General of the Alwaleed Bin Talal Foundation, the personal charity of the Middle East's richest man, Prince Al-Waleed. The position gave Muna international exposure at the highest level, whilst still in her early 30s. "It was sink or swim time," she laughs. The position was also a huge learning curve, but she says Al-Waleed was a great teacher. "He's eccentric, unique, and rich. He is very detail-orientated, and I am a big-ideas person.
Share this


Link to this
Printer Friendly