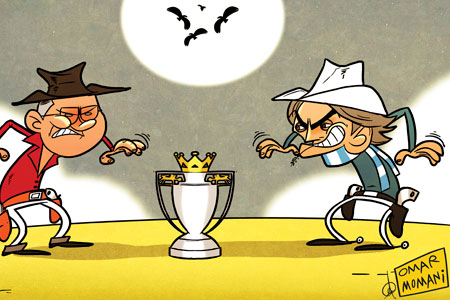 Satirical Soccer
Issue 93 June 2012
Who says you have to be an athlete to make your name in sports? Ali Khimji meets Omar Momani, a caricaturist who has made an impression on the world of football with his pencil.

For something that is so dominant in today's world, it is strange how a football match takes up so little time. Each game lasts only 90 minutes (unless there is extra time or penalties), but somehow these 90 minutes expand into 90 hours of speculation and hype in the days leading up to the spectacle. Much of this comes from news articles and blogs, but another medium that has grown in recent times is caricatures and cartoons.

Before the 2010 World Cup, Omar Momani drew some cartoons for the great event in South Africa—just to share with friends and family. Those who came across them liked what they saw, and they shared the cartoons online. Motivated by this, Omar wanted to promote them to as wide an audience as possible, so he contacted Goal.com to see if they would be interested in working with him. He started contributing to the Arabic edition first, and in January was promoted to the international website.

Omar is commissioned to produce a cartoon everyday based on football news and results, and while some may see this as a challenge, Omar chooses to embrace it. "Cartoons are enjoyable, and doing them is even more enjoyable," he says. "When you do something you love, it is easier to get it done. Sometimes it is difficult to find ideas, but every day I brainstorm with the editors at Goal.com, analysing the hottest story of the day."
Share this


Link to this
Printer Friendly