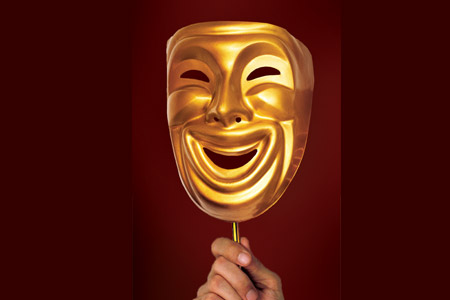 Shelina Zahra Janmohamad - To laugh, or not to laugh
Issue 95 August 2012
Comedy and humour are great ways of enlightening a dour mood, which is just the pick-up needed in these times.
A few years ago, I attended a fundraising event enticed by a line up of budding Muslim stand-up comedians. On a Friday night in central London the place was sold-out with young trendy things who were looking for somewhere they could enjoy themselves after a hard week's work, ensure they were in an Islamic environment, as well as getting the chance to make new friends, and contribute to charity.

After two acts that helped the audience to relax, the smiles turned into ripples of laughter, and the audience was clearly enjoying themselves. Then, one of the organisers came on stage for a quick interlude. "I'd just like to remind everyone of the hadith that says it is better not to laugh too much." Not laugh at a comedy evening! The audience became subdued, as though told off by a schoolteacher, now afraid to express their pleasure at the very halal jokes being told to them.

When Muslims are accused of lacking a sense of humour, it is hard not to agree that certainly in some places it is buried quite deep. I am not disputing the advice not to laugh too much—after all, it is hard to maintain the concern we are advised to have for the suffering of people around the world, and then find ourselves cackling with laughter. But it seems to me that comedy is useful as a means of relaxation, as well as a means to understand ourselves, our community foibles, and our core humanity. After all, the richest humour is found in the gap between our aspirations and our reality.

Comedy helps us to come together and bond through the dropping of barriers and differences, but also by helping us to see that the struggles that we think are unique to us are in fact shared, and we are all in this together. Sharing a good joke can bring down barriers, and also offer a little wisdom about ourselves.

For Muslims with a sense of religion and history, this role of comedy is nothing new. Mullah Nasruddin is one of the great entertainer-comedian-wise man of Muslim history, whose stories date back to the Middle Ages. A joke that never fails to make me laugh is this: A certain conqueror said to Nasruddin, "Mullah, all the great rulers of the past had honorific titles with the name of God in them. There was, for instance, 'God-Gifted', and 'God-Accepted', and so on. How about some such a name for me?" "God Forbid," retorted Nasruddin, quick as a flash.

The Qur'an also has humour. Every time I read the story of Prophet Ibrahim, I chuckle. He stood as a young man in front of his village elders the morning after he has chopped the heads off the idols and hung the axe on the one remaining statue. Spitting with rage they demand to know if he is responsible. "Just ask the big idol," he replies. You can imagine them becoming enraged at the young upstart poking their bubble of arrogance. It is a moment combining deadpan comedy with sheer farce.

I have huge admiration for the growing crop of new Muslim comedians: it takes bravery and a great deal of talent to be able to highlight the reality of being Muslim in a way that is sharp and funny, but also exposes the truth of our human failings. It is important work in a community that needs ways to understand itself and its place in the world.

TV and film are increasingly used to explore the reality of Muslim life in the mainstream, comedy often being the medium of choice. There is already far too much portrayal as terrorists, honour-killers and killjoys. And the reality is that Muslims have in their own lives such a great sense of humour. We do not need to repress it when in the presence of religion, as though the two are separate. A good sense of humour is a gift that should be shared.

Such comedy breaks down barriers to other communities, and this is crucial work also. A multi-faith joke might go like this: a priest, a rabbi, and a mullah walk into a bar. The barman says, "What is this, a joke?" Well yes, it is a joke. And yes, it is absolutely fine to break out into a smile.
Share this


Link to this
Printer Friendly