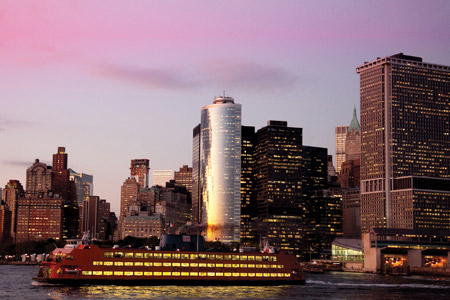 Sleepless in New York
Issue 95 August 2012
New York is quite possibly the most famous city in the world, and has played stage to some of the most popular films today. Nabeel Shariff takes a behind the scenes tour of the Big Apple.
When you mention New York City to someone, there never seems to be a shortage of superlatives to describe possibly the most famous city in the modern world. The jagged skyline is familiar to even the most infrequent traveller, as is its main artery, the Hudson River. The familiarity continued as I traipsed across block after block, with a sense of déjà vu at so many of the landmarks I came across. "I'm sure I saw this recently," I said to myself, as another iconic New York sign flashed across my memory. I had seen it before, in the perfect placement of Hollywood's most impressive film set. In my 48 hours in the 'Big Apple' I came across many more movie references that came as a surprise, even to a film-lover like me.It was day one and breakfast time. New Yorkers love food. It is a fascination here. Everything is big. Super-big. I headed to a nearby coffee shop for a freshly baked bagel and New York style 'cawfee'. With car horns going ten to the dozen, I unwrapped my bagel and stared at my oversized map of the city to get myself oriented. It is not too difficult, as everything is in a grid system, but planning a route is well worth it, as with all large cities. New York is split into five distinct areas: Manhattan is the London equivalent of zone 1, with Brooklyn and Queens to the east, Staten Island to the south and the Bronx to the north of the city. After the last few bites of my bagel, I folded my map and headed off to the nearest subway station.

One of my friends said to me, "You must go to Grand Central Terminal, even if you're not taking a train." I have heard Grand Central is known for its architecture, but the same could be said about St. Pancras. On my last visit to London, I did not see hordes of tourist ogling the ceiling. I had to see what all the hype was about for myself, so I duly headed to 42nd at Park Avenue.
Share this


Link to this
Printer Friendly