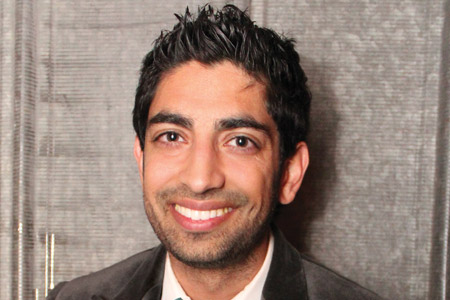 10 Questions with Rahim Fazal
Issue 95 August 2012
At 21, Rahim Fazal was the youngest CEO ever to head a publicly traded company. He now heads up Involver, a company that helps brands engage customers through social media, that has recently been acquired by technology powerhouse Oracle.
Entrepreneur and public speaker Rahim Fazal is the chairman and co-founder of Involver, the world's largest social media marketing platform used by more than one million companies and many Fortune 500 brands. While still in high school, Rahim co-founded a web-hosting company and negotiated its sale for $1.5 million while taking his Senior Year final exams. He then started a web services platform business and eventually took it public, becoming one of the youngest directors of a publicly traded company in America.

Rahim completed his MBA at Canada's top management school, the Richard Ivey School of Business. Because of his achievements, he was the youngest student in the school's 80 year history accepted without a prerequisite university degree.

Startup America and The Kauffman Foundation recently honoured Rahim at The White House with an Empact 100 Award. He has been named one of the Top 30 Entrepreneurs Under 30 in America by Inc Magazine, and one of the Top 25 Digital Thought-Leaders by iMedia.

1. How did your education and upbringing have an influence on you?
My upbringing had a huge influence on me. I was born and raised in Vancouver, BC, Canada in a middle class neighbourhood to two incredible parents and a little sister who I loved and competed with viciously. My mum and dad were born in East Africa, and had to leave their homes in the 70s because of political unrest. They settled in Canada with very little to their names except their educations.
Because of this narrative, my parents always pushed my sister and I to work really hard at school. But it wasn't just about getting good grades. My parents wanted me to be really well rounded, and so they let me explore lots of different hobbies and activities such as playing ice-hockey, painting murals, volunteering at the mosque, setting up stores at flea markets, and auditioning for small roles in television movies and commercials, which they even let me miss the occasional day at school for. I was a lucky kid because I got to share most of these experiences with my younger sister even when I thought she wasn't as cool or smart as me. She always used to say to me, "you're not smarter, you're just older, so you know more."

2. Which people do you admire the most and why?
My parents because they taught me the value of service, and that life should be measured not by what you've done but what you've helped others to do.
Share this


Link to this
Printer Friendly