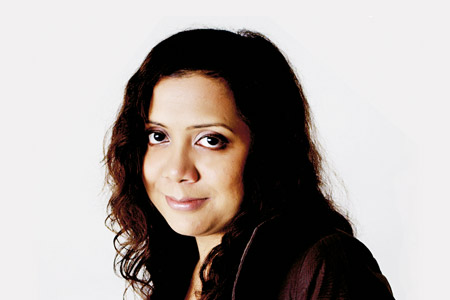 A Week in the Life of Roohi Hasan
Issue 95 August 2012
Roohi never wanted a regular job, which is just as well, given the stresses involved working long shifts on a flagship news programme.
As soon as I wake up, I check my BlackBerry. As a journalist, I often receive emails through the night if a story has broken or from leads that I have been chasing for a story. I then try to go to bootcamp in the park. With a busy work week, working out is important to me, plus I've realised it helps energise me to face my long day ahead.

The role that I currently have with ITN for ITV News as a Senior Producer is split into two. One side is working on ITV's News at Ten, which is our flagship show, whereas the other involves coming up with story ideas, going out to film them and getting them ready to be aired on our news shows throughout the day. If I'm working on News at Ten, which is once or twice a week, I get up around eight and immediately start watching the news on television and catching up with the papers online. I get into the newsroom for 11 and have a meeting with the programme editor. They will go through, with the team including myself, the writer and other producer, the wishlist for the programme and decide which stories we want to pursue for the show. We then take those away and think about how we want the stories to look—what pictures do we need, are there any graphics that need to be created, and get researching for any information or statistics for that.

At around three, we'll meet again and update on our stories. After that meeting, things start getting busier. The last few hours before the programme airs are usually spent in edit suites, where we put the pieces together, making sure everything looks cohesive, for the programme to be aired at 10pm.
The other part of my job is a lot more demanding in a different way. It involves coming up with ideas and seeking out the most interesting stories that no one else is doing or new angles to big news stories. This role often involves travel to all corners of the country, and sometimes abroad. It can range from interviewing key news makers, global leaders, inspirational injured servicemen, war veterans, and bereaved families. It starts from persuading individuals very sensitively to take part in filming and trust us to then decide how we're going to film it and make a great piece of television. Ahead of time, I brief the cameraman, reporters and presenters about exactly the type of story we're looking for and discuss how best to approach it and film it.

If our filming is for a story for the same day, then throughout, I'm liaising with the programme editors back at the newsroom to ask how long they need for the piece, and if there are any other elements they require. Once we're done with the filming, we usually edit in a satellite truck on location, so I also need to make sure we have somewhere to park and that the truck can pick up a signal. If the story is for our news show at 6:30, then we usually find out if they want extra footage or details for the story if it's going to be repeated on News at Ten.

People who enter journalism should hopefully enjoy stress, otherwise they're definitely in the wrong career. I'm quite a calm person, and that really helps in the middle of a busy newsroom. It doesn't really solve anything by getting worked up, because the task is still there and has to get done. I'm also very good at working with other people towards the same goal, which is a necessity in the media. A lot of the time, it's about being organised and staying on top of tasks. Every week, 100 new contacts go into my phone, so I have to label each one correctly, detailing when I last spoke to them, what it was for, and what they said.

Even though a lot of my work revolves around convincing people to appear on camera, I would never want to do it myself. A lot of people say that news is becoming more representative with more female and ethnic presenters, and our talented presenters are key to our programmes, but a lot of the decisions on what we do are also being made in meeting rooms behind the scenes. That's where the influence lies, and I enjoy being part of that process.

At the end of a News at Ten shift, I enjoy coming home when everyone is asleep and watching some 'vegetative' television, that's hopefully not news-related! But the work never stops. Planning is crucial, so if someone ever calls me about a story that I'm chasing on a day off, I often have to deal with it there and then. When I was younger, I always said that I could never do a regular 9-5 job, so now, when I'm doing long shifts in the newsroom, I can't complain because I pretty much got what I wished for, and it's a job that I love.
Share this


Link to this
Printer Friendly