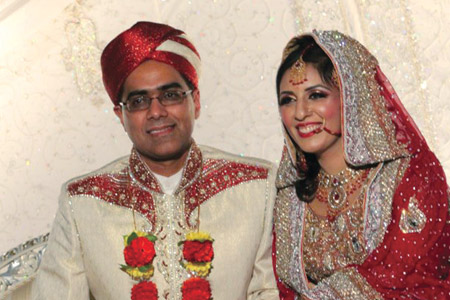 Marriage - Love over Long Distance
Issue 95 August 2012
Sobia was living in London when she met Nassir in Glasgow. Through communication, they built a strong relationship—but still clash over shopping!
Sobia
I was born and raised in Glasgow, but had moved to London to work as a dental surgeon after graduating from Glasgow University. Every few months, I would go back to visit my family in Scotland, and it was on one of these trips that a family friend, who was a keen matchmaker, introduced me to Nassir. My first impression was that he was very tall! At over six feet, he towered over me. But after we spoke, I found he had a warm and confident personality. He came across as very charming and acted like a true gentleman on our first meeting.

In my head, I was ticking all the boxes that I had specified for a potential spouse, and surprisingly Nassir met all my requirements. I was really glad to have agreed to meet up with him. But after the first meeting, I had doubts whether Nassir was interested or not. He had cut it short because he had commitments elsewhere. However, I later found out that he left early because he was running out of time for his parking and had no extra cash with him that day.
Nassir
In February last year, a mutual friend organised a meeting for Sobia and I over coffee. I was actively looking to get married at the time, so I had asked our mutual friend to help me find a spouse. When I met Sobia, she came across as a very happy and intelligent person. She looked beautiful and had a lovely smile. Later I found out that the reason for her lovely smile was that she was a dentist by profession!

I felt that we were both comfortable in each other's company, and we managed to talk non-stop for two hours at our first meeting. I definitely felt that I wanted to take things forward after that, but I wasn't sure if Sobia really liked me or not, because we didn't arrange any further meetings there and then. I persuaded my friend to ask Sobia if she would like to meet up again, and I was quite surprised to hear that Sobia was waiting to hear back from me first.
Share this


Link to this
Printer Friendly