CURRENTLY UNDER CONSTRUCTION
Please bear with us while we sort this page out a little. Some links below do work though and we anticipate this page should be done within the next few days - The Web Editor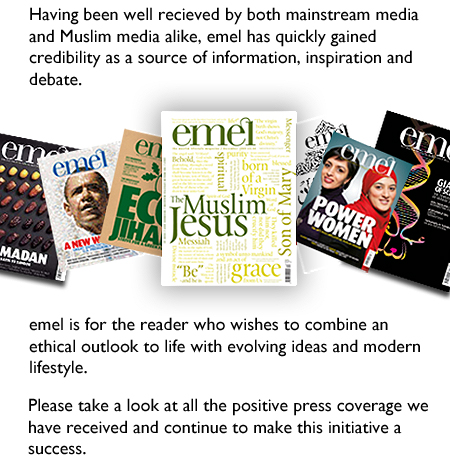 emel for the reader who wishes to combine an ethical outlook to life with evolving ideas and modern lifestyle.
and has been well received by both mainstream media and Muslim media alike.
emel has quickly gained credibility as a source of information, inspiration and debate. Please take a look at all the positive press coverage we have received and continue to make this initiative a success.

U.K. glossies seek young Muslims
By Carrick Mollenkamp, 19th October 2005

Muslim lifestyle magazine goes mainstream
By Ciar Byrne, 29th September 2005

The Culture Show

By Stuart Wavell, 9th October 2005
By Will Pavia, September 30, 2005

The Sunday Times,
Putting a good glossy on the Muslim lifestyle
Sarah Joseph's new magazine shows that Muslims like fashion and furnishing too, says Stuart Wavell, October 09 2005
bahis siteleri
http://www.emel.com/attach/The_Sunday_Times.doc
Independent,

Muslim lifestyle magazine goes mainstream
By Ciar Byrne, Media Correspondent. 29 September 2005
http://www.emel.com/attach/Independent.doc
IslamOnline.net,

Emel, Britain's first glossy Muslim lifestyle monthly, has gone mainstream to give a deep insight of Muslims, break cultural gaps, in addition to clearing misconceptions and stereotypes on Islam. 30th September 2005
http://www.emel.com/attach/IslamOnline.doc
The Times,
Muslim glossy goes mainstream to break down cultural borders
By Will Pavia. 30th September 2005
http://www.emel.com/attach/The_Times___30th_September_2005.doc
Evening Standard,
Sarah Joseph edits Britain's only Muslim lifestyle magazine. She says it can help show there is more to Islam than prayer and politics. By David Rowan. 20th July 2005
http://www.emel.com/attach/London_EVening_Standard.doc
To obtain media images or any other press information, please drop us an email at