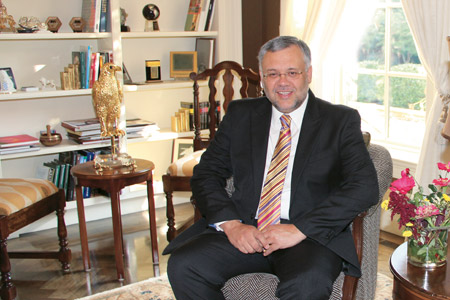 A Journey Unimagined
Issue 98 November 2012
From the depths of a prison in South Africa where his companion was the Qur'an, Ebrahim Rasool is now his country's most significant diplomat. He speaks to Sarah Joseph on his struggles against Apartheid and his vision for Muslims of the world.
Pollsmoor Maximum Security Prison in Cape Town has held some of South Africa's most dangerous criminals and roughest gangsters. It is also the place where Ebrahim Rasool met Nelson Mandela. That no bitterness or anger lives within either man is extraordinary. That they were able to construct a positive vision of the world is almost a miracle. That they have spent their post-prison years attempting to bring to reality a more just and equitable society is testament to the beauty and power of the best of human spirit.
Ebrahim Rasool was born in 1962 into a Cape-Malay family. Cape-Malays fell into the category 'coloured' as defined by the Apartheid regime—not as deprived materially as the Blacks, but without the rights and privileges of the Whites. At 10, Rasool was expelled from his home when the Apartheid government declared his district—District Six—to be a Whites–only residential area. "I came home to find all our furniture on the pavement, and my father desperately looking for a truck to carry our possessions. My parents' sadness and the loss of community stayed with me throughout my life."
It is not a sadness that taints him however. Indeed, his careful, thoughtful, yet optimistic utterances belie the years of struggle. He stands today as South Africa's ambassador to the United States, with a Black President in the White House. He admits it would have been impossible to imagine such a world in the midst of the struggle, "The only thing we dared to imagine was staying out of prison, and staying alive. We were dealing with one of the most brutal regimes imaginable."
Yet the anti-Apartheid activists did imagine something amazing. Despite the oppression, the brutality, the poverty, the inequalities, the incarceration; despite even the killings, their slogan was audacious, 'Freedom in our Lifetime.' "It gave us hope," says Rasool.
Share this


Link to this
Printer Friendly